Turkey plot: Ex-army chief Ilker Basbug kept in custody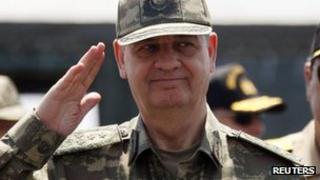 A Turkish court has rejected a request to free former military chief Gen Ilker Basbug as he awaits charges over an alleged coup plot, state media report.
The retired general was sent to a prison near Istanbul on 6 January after being remanded in custody while prosecutors prepared charges.
He is the most senior officer accused over the so-called Ergenekon plot.
Gen Basbug has denied the allegations, which include forming and leading a "terrorist organisation".
Prosecutors say a hardline nationalist group tried to bring down Prime Minister Recep Tayyip Erdogan's government in 2003.
Some 400 suspects are already on trial.
There was no immediate comment from the general's lawyer after Tuesday's ruling.
'Chain of command'
During questioning, Gen Basbug told prosecutors and the court that websites at the centre of the case had been created by his predecessor, Gen Yasar Buyukanit, who was in charge between 2006 and 2008.
"I should actually be thanked because I was the person who closed them down when I took up the post," Gen Basbug is reported as saying in his statement to prosecutors.
The Ergenekon trial is one of several involving accusations of anti-government plots by the military and secular establishment.
Some military officers already charged in the case have said they acted in a chain of command.
Turkey's military, the second largest in the Nato alliance after the US, has long seen itself as the guarantor of the country's secular constitution. It staged three coups between 1960 and 1980.
It has a history of tension with Mr Erdogan's governing AK party, which has Islamist roots.
The two sides have engaged in a war of words for the past two-and-a-half years over the alleged plots.
Critics complain that the Ergenekon investigation has focused on opponents of the AK, but the government denies any such motives.
The AK is considered a successor to the Welfare Party, an Islamist party which led a 1996-97 government before being forced to resign by an army-led campaign.