Sweden to hold new inquiry into Wallenberg death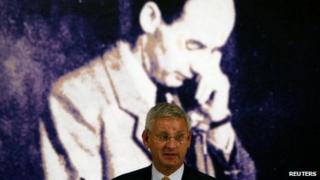 Sweden has announced it will hold a new inquiry into the death of diplomat and Holocaust hero Raoul Wallenberg after his capture by Soviet forces in 1945.
Foreign Minister Carl Bildt asked officials to look into whether any new material had emerged that could shed new light on what happened.
The Swedish diplomat was credited with saving tens of thousands of Hungarian Jews from the Nazis.
A Russian inquiry said he was executed in 1947, after the German retreat.
Hans Magnusson, who was involved in a similar inquiry in the 1990s, will lead the new investigation.
Wallenberg, aged 32 at the time of his arrest, saved Jews by providing them with "protective passports" issued by the Swedish government.
About 550,000 Hungarian Jews are estimated to have been killed by the Nazis and their allies.
Sweden, Hungary and Israel are holding events to mark 100 years since Wallenberg's birth.
Mr Bildt, Hungarian Foreign Minister Janos Martonyi and Israeli cabinet member Yossi Peled spoke at an inaugural event at the National Museum in Budapest on Tuesday.
Search 'obstructed'
Russian investigators announced in 2000 that Wallenberg had been executed at Moscow's notorious Lubyanka KGB headquarters in 1947.
This contradicted a 1957 Soviet report to the effect that the young diplomat had died of a heart attack in the Lubyanka.
But a joint Swedish and Russian report published in 2001 concluded that many important questions had not been answered, and that the Wallenberg dossier could therefore not be closed.
Wallenberg researchers say the Russian authorities obstructed investigations in the early 1990s.
The former head of the Soviet "Special Archive", Anatoly Prokopenko, told the Associated Press news agency that the Russian authorities had grown increasingly reluctant to allow public access to archives.
Russian researcher Vadim Birstein told AP some previously unknown documents had been found since 1991.
Susanne Berger, a German researcher based in the US, said evidence found in 2009 suggested Wallenberg had been interrogated six days after his official death date.
"We have consistently encountered problems in getting to the material that we truly need to see," she told AFP news agency.
"We consistently face the problem of meaningful, direct, uncensored access to the records needed to conduct a serious investigation."