Cargo ship Aztec Maiden runs aground off Netherlands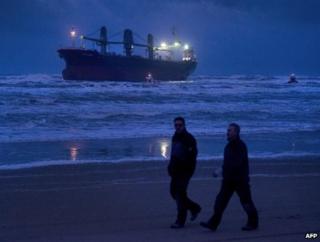 A cargo ship has run aground on the Dutch coast 20km (12 miles) west of Amsterdam after its anchor slipped in an overnight storm.
The empty vessel appeared to be stable after drifting towards the coast and rescue services said there was no sign of any fuel leak.
It was named as the 155-metre (500-foot) Aztec Maiden , a Philippine-registered freighter with a crew of 21.
Work to pull the ship free is due to begin on Saturday afternoon.
There were no reports of injuries after the ship broke free and drifted, coming to rest on sand about 200m (yds) offshore, near the North Sea coastal town of Wijk aan Zee.
"As far as we can judge, the ship is stable," Peter Verburg of the Dutch coast guard told state broadcaster NOS.
While there was no sign of oil leaks, the coast guard was "monitoring it very closely", he added.
The salvage company Svitzer had hoped to try to get the ship moving again at high tide on Friday afternoon, using tug boats. It landed salvors aboard the ship by helicopter.
However, conditions proved unfavourable and a new attempt is scheduled for 14:00 (13:00 GMT) on Saturday, the local authorities in nearby Heemskerk said.
Coast guards were surveying the ship from the air to check for damage.
People watching the ship from the beach told Reuters news agency they were worried about the possibility of oil spilling into the sea.
"I hope the oil is not going to leak out, because then the oil will come into the sea, and the fish will die, and you can not swim anymore," said 10-year-old Jeroen, who had come to watch the ship.