Russia elections: Liberal Yavlinsky facing vote bar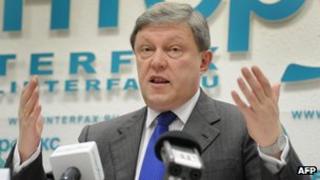 Russian liberal opposition leader Grigory Yavlinsky could be barred from the March presidential election because of alleged errors in his registration.
Election commission officials cited problems with 23% of the signatures submitted as part of his candidacy.
Independent candidates have to collect 2m signatures to take part in the 4 March poll.
"This is a a totally political decision," Mr Yavlinsky said, blaming PM Vladimir Putin for the controversy.
The Central Election Commission (CEC) said it would make a final decision on the liberal leader's participation in the poll in the coming days, after inspecting another sample of signatures.
No such problems are anticipated for billionaire businessman Mikhail Prokhorov, another independent candidate whose decision to join the race has been criticised by opposition figures as an attempt by Mr Putin's camp to dilute their vote.
Although Mr Yavlinsky, 59, has not been considered a major contender to Mr Putin's bid for a third term as president, he said that not allowing him to run would erode trust in the vote.
"All the signatures are authentic. They are the real signatures given by real people. What is the point of collecting the signatures?"
Mr Prokhorov told reporters that barring Mr Yavlinsky would "deliver a blow to the legitimacy of the presidential ballot".
Mr Yavlinsky's leadership of the Yabloko party dates back to the 1990s when he challenged Boris Yeltsin for the presidency. But recent opinion polls have put his support at under 5%.
Moscow Echo radio's chief editor, Alexei Venediktov, suggested that Mr Yavlinsky was being targeted because Yabloko monitors had identified the most irregularities in the December parliamentary election and the commission wanted to stop them taking part in the 4 March vote.
Mr Putin is widely thought to be heading for victory but may not secure the necessary 50% of the vote to avoid a second round run-off.
Claims of vote-rigging in the December vote have sparked protests across Russia against Mr Putin and his United Russia party.