'Mad borrowing' caused Irish crash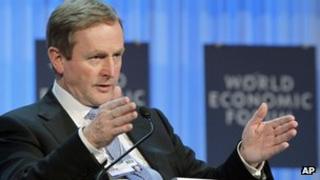 The Irish prime minister has blamed "mad borrowing" by Irish people for the country's economic crisis.
Taoiseach Enda Kenny told the World Economic Forum in Davos on Thursday that easy credit "spawned greed".
"It just went out of control completely with a spectacular crash," he said.
The forum, now in its 42nd year, attracts nearly 40 heads of government and state and 19 of the world's 20 most influential central bankers to discuss the world's economic issues.
In 2010, Ireland received a financial bail-out package from the European Union and the International Monetary Fund worth up to 85bn euros (£72bn).
In Davos, Mr Kenny was taking part in a plenary session with European Commission President Jose Manuel Barroso, Finnish Prime Minister Jyrki Katainen and Polish President Bronislaw Komorowski.
"The country borrowed over 60 billion euros (£50bn) at excessive rates and the IMF eventually came in with the Troika," said Mr Kenny.
However, his comments seem to differ from those made to the Irish people in December when he said: "Let me say this to you all, you are not responsible for the crisis."
A Sinn Fein TD has criticised Mr Kenny's remarks.
"He gave an address to the Irish nation in December, telling us it was not our fault, but to say this was an absolute contradiction," said Padraig Mac Lochlainn.
"This analysis that people in Ireland went drunk with credit, were reckless and they have to now be cleansed by a decade of austerity to clean them of their sins is very worrying.
"What you had was aggressive lending by the core banks that toyed with low interest rates. It was like crack cocaine."