Georgia entrepreneurs compete for loans on reality show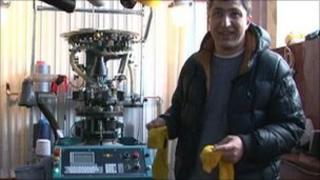 In a small room at the back of a drafty, crumbling warehouse, Zaza Janezashvili carefully feeds coloured thread into a huge whirring machine.
A few minutes later, a bright yellow sock pops out of a long tube. It all looks like something out of Charlie and the Chocolate Factory.
But there is nothing childish about Zaza's business.
With just a couple of employees, he already makes 6% of all the socks sold in Georgia. And now he will be able to expand production 10-fold - all thanks to the country's latest TV hit.
He won a low-rate loan on a popular show, the title of which could roughly be translated as Get Employed and Employ Others.
A panel featuring the heads of the country's three biggest banks, and chaired by the mayor of Tbilisi, Gigi Ugulava, hands out government-backed loans with a low 6% interest rate to business owners or would-be entrepreneurs with a credible business idea.
"I would usually have to pay around 30% interest on a loan like this," Zaza said. "If I hadn't taken part in this show, it would have taken me years to reach this level."
Other contestants have pitched ideas ranging from a floating restaurant, a taxi service for women and a hotel in the shape of a flying saucer - an idea pitched by an entrepreneur who said he had been contacted by aliens. He did not win that particular episode.
The show's producer, Giorgi Khaburzania, who also makes Georgia's version of Pop Idol, says the programme aims to create a more entrepreneurial culture, in a country which until 1991 was communist.
"It's only 20 years since we adopted a free-market economy. So for many people it's informative to actually understand how business should be done," he said.
"If we had more TV shows like this I think it would put some money into small businesses - and really educate people who have a post-Soviet mentality."
Image boost?
During the show Mayor Ugulava, tipped by some as a possible successor to President Mikheil Saakashvili after he steps down in 2013, regularly takes the presenter on a tour of local building projects.
But some critics accuse the ruling party of using national television to boost its own image in the run-up to October's parliamentary elections.
Koba Turmanidze, a political scientist from Tbilisi State University, says the sight of a high-ranking politician handing out business loans on television is political propaganda masquerading as entertainment TV.
"Their promises to employ people to create more jobs have not so far been fulfilled," he said.
"So when you see on TV that one of the top politicians from the ruling party is actually participating in job creation, that's of course a very positive message to the electorate.
"In fact it is part of the pre-election campaign. And when elections come closer we will often hear reference to this show from his supporters, saying 'look what the mayor did, how many jobs he created'.'"
Mr Ugulava denies using TV to win votes. After all, he says, judging contestants, and having to reject most of them, is not exactly the route to popularity.
"Sometimes you have to say no. And I don't think politicians like showing themselves publicly saying no. I don't think that's good propaganda," the mayor explained. "I think the project was more educational and less to do with upcoming elections."
Media 'cowed'
Analysts believe that the intricate connections between media, business and the powerful ruling party mean politicians have a strong influence on what is broadcast on national television - a useful tool in a country where 88% of people get their news from TV.
It is not unusual for the two leading national channels to run 20-minute reports showing a smiling President Saakashvili opening hospitals or schools as their top news item.
Some journalists say they fear losing their jobs if they are too critical of the government.
Meanwhile, opposition media outlets complain that it is hard to attract advertising, because many businesses do not want to fall out of favour with the government by being associated with political rivals.
So journalists are not exactly censored - but many censor themselves in order to survive professionally.
According to Mark Mullen, chair of Transparency International Georgia, the two most popular channels, Rustavi 2 and Imedi, each watched by over 80% of the population, present only the ruling party's side of the argument.
"You don't hear a lot of investigation. There's not a lot of discussion about high-level issues, about tenders, the relationship between business and government," he said.
"There are a lot of important things happening that you just don't hear about. Generally what you hear about is that the government is doing many positive things - as they are. But there are other things happening too."
But Georgia's government maintains that there are no restrictions on media freedom, and that journalists are free to criticise the ruling party.
And certainly reporters do not generally fear the violence or physical intimidation that exists in other parts of the former Soviet Union.
Criticism 'everywhere'
President Saakashvili insists all sides of the political spectrum are represented by Georgia's state-funded public broadcaster, watched by almost a third of the population.
"Nobody's mouth is shut," he told the BBC.
"If people have something on their minds, they can voice those opinions on any channel, no matter what their position.
"Criticism can be heard everywhere, from every television channel, from every newspaper, from the parliament, and also from the crowds."
Back at the factory, Zaza proudly shows me pictures of the new machines he will now be able to buy after winning the reality show.
He is not disturbed by the idea that government politicians handing out loans on TV may seem like electioneering.
With official unemployment hovering around 16%, and an actual jobless rate (according to the Caucasus Research Resource Centers) more like over 30%, many Georgians have more pressing concerns.
So Zaza's attitude is, if going on television is what it takes to get a business loan, then so be it.
He says he is grateful for any help he can get.