Russian jailed for selling missile secrets to CIA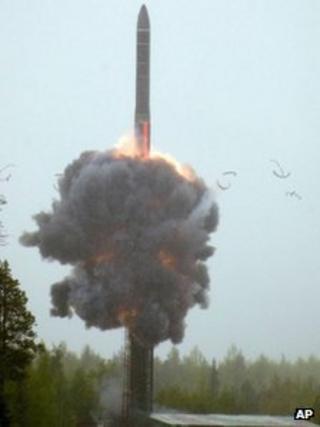 An engineer at Russia's Plesetsk space station has been jailed for 13 years after being convicted of selling missile test data to the CIA.
Lt-Col Vladimir Nesterets, a senior test engineer at the station, was convicted of treason, Russia's FSB secret police announced.
He admitted passing on information about tests involving Russia's latest strategic missiles, it said.
However, his wife told Russian media her husband had denied being a traitor.
Russia's missile programme has recently been hit by apparent design faults.
Plesetsk, a base in north-western Russia near the Arctic Circle, is used by the military for launching satellites into orbit and testing missiles.
'Not a traitor'
The FSB (Federal Security Service) gave no further details of the case against Nesterets.
But the engineer's wife told Russian news agency Ria-Novosti her husband had written to say he was innocent.
"He wrote to me and said he had never done anything shameful, that he had not sold out his motherland," Irina Nesterets said by telephone.
"I believe him and everyone who knows him believes him and I don't know why he confessed to doing it."
She added that an appeal was unlikely since he had made a confession.
The announcement of the Nesterets sentence comes days after President Dmitry Medvedev said the FSB had uncovered 199 foreign spies and agents last year.
Some of these, he said, were Russian nationals working for Western states.
"The results of the FSB's counter-intelligence work for last year clearly demonstrate that foreign secret services are stepping up their activities in Russia," Mr Medvedev said.
Recent years have seen embarrassing setbacks for Russia's missile programme, though not necessarily involving the Plesetsk base.
Most prominently, the submarine-launched Bulava ballistic missile was hit by a series of test failures before being finally approved in December.