US firm Monsanto 'guilty' in France poisoning case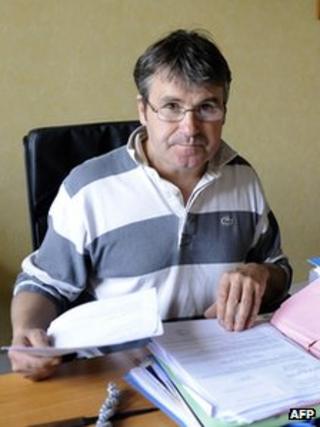 A French court has found the US biotech giant Monsanto legally responsible for the poisoning of a farmer who inhaled a powerful weedkiller.
Correspondents say the case could influence rulings in other countries on the use of pesticides.
Monsanto says it will appeal against Monday's verdict by a court in Lyon.
Paul Francois, 47, suffered from dizziness, headaches and other problems after examining a sprayer in 2004 which contained Lasso, a product now banned.
The court linked Lasso directly to the farmer's illness.
It ordered a report on his condition, to establish the amount of compensation Monsanto would have to pay him.
'Historic decision'
Mr Francois, a cereal farmer from the Charente region in south-west France, had to stop work for a year. Medical tests found the hazardous chemical chlorobenzene in his body.
He complained that Monsanto had failed to give a warning on the Lasso label.
His lawyer, Francois Lafforgue, told Reuters news agency this was "a historic decision, in so far as it is the first time that a [pesticide] maker is found guilty of such a poisoning".
Lasso has been banned in France since 2007. It was also withdrawn from sale earlier in Belgium, Canada, the UK and some other countries, French TF1 television reports.
Yann Fichet, head of institutional relations at Monsanto France, said: "We are disappointed by the court's decision."
Monsanto's lawyer, Jean-Philippe Delsart, said: "Monsanto always considered that there were not sufficient elements to establish a causal relationship between Paul Francois's symptoms and a potential poisoning."
Correspondents say similar legal complaints often fail to prove a direct causal link between pesticide use and human illnesses.