Azerbaijan country profile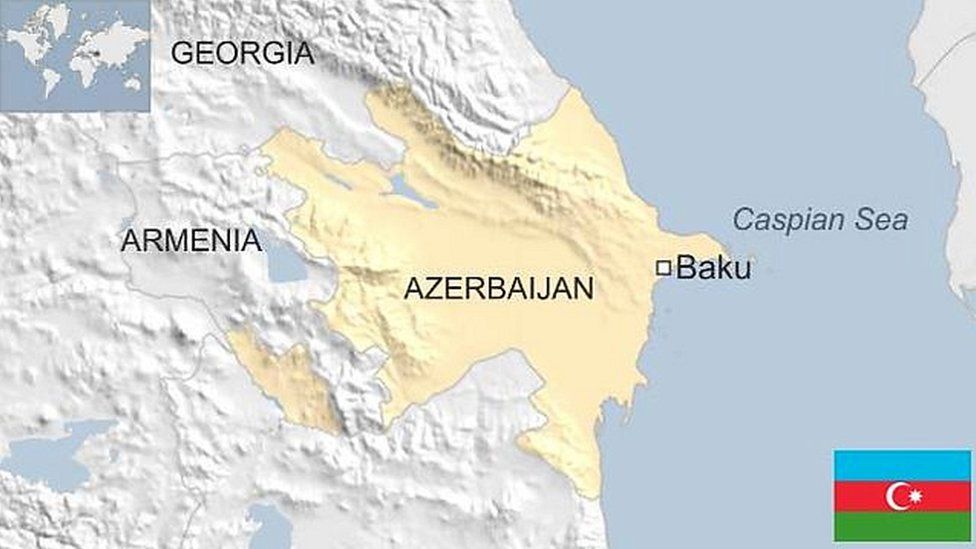 Oil-rich Azerbaijan has redefined itself over the past two decades from a struggling newly independent state to a major regional energy player.
Deals with international energy producers have allowed the country to use its energy revenues to create a government-run fund involved in international projects.
It has also used its resources to rebuild its army, which is seen as a government priority as the country grapples with the breakaway territory of Nagorno-Karabakh.
Despite its wealth and increased influence in the wider region, poverty and corruption continue to overshadow the country's development.
The formal political opposition has been weakened by years of persecution and Baku has carried out an extensive crackdown on civil liberties in recent years, says Freedom House.
REPUBLIC OF AZERBAIJAN: FACTS
Capital: Baku
Area: 86,600 sq km
Population: 10.3 million
Language: Azerbaijani, also Lezgian, Talysh, Avar, Russian, Tat
Life expectancy: 70 years (men) 75 years (women)
Ilham Aliyev took over as president from his father Heydar in 2003, and secured his latest term in 2018 in an election which Western observers said fell short of democratic standards.
In 2016 a referendum extended the powers of the president - including a controversial proposal to lower of the age limit for presidential candidates. The opposition said the move was aimed at cementing the rule of President Aliyev's family, with his 19-year-old-son as a potential heir.
Under his rule, Azerbaijan has increased its international profile, including hosting the Eurovision Song Contest in 2012 and the Baku European Games in 2015.
It also scored a major military success in late 2020, when it recaptured territory in and around Nagorno-Karabakh.
Prime minster: Ali Asadov
Asadov is considered a close ally of President Aliyev. He was elected prime minister in October 2019 following he resignation of Novruz Mammadov.
Dissenting voices are practically absent from mainstream media and critical journalists risk arrest and imprisonment.
TV is the most popular medium. All Azerbaijan-based channels toe the government line.
Social media are used as platforms for free expression and activism. Facebook is the leading social network.
Some key dates in Azerbaijan's history:
1828 - Turkmanchay treaty between Russia, Persia divides Azerbaijan. Territory of present-day Azerbaijan becomes part of Russian empire while southern Azerbaijan is part of Persia. Twenty years later, the world's first oil well is drilled south of Baku.
1918 - Independent Azerbaijani Republic declared but the country becomes a Soviet Socialist Republic two years later after the Red Army invades.
1988 - Nagorno-Karabakh region seeks to become part of Armenia. Ethnic Azeris begin to leave Karabakh and Armenia and ethnic Armenians leave Azerbaijan.
1992 - Ethnic strife between Armenia and Azerbaijan leads to a full blown war.
1991 - Azerbaijani parliament votes to restore independence.
1994 - Armenia, Azerbaijan and Nagorno-Karabakh sign a ceasefire accord. Ethnic Armenians remain in control of Karabakh and a swathe of Azerbaijani territory around it.
Azerbaijan signs what it calls the "contract of the century" with a consortium of international oil companies for the exploration and exploitation of three offshore oil fields.
2020 - Azerbaijan scores a major military success when it recaptures territory in and around Nagorno-Karabakh. Some 3,000 Azerbaijani soldiers and 4,000 Armenian soldiers are killed in the conflict.
Russian peacekeepers are deployed to monitor a new Moscow-brokered ceasefire, and also to ensure safe passage through the region of Lachin - the so-called "Lachin corridor" - which separates Nagorno-Karabakh from Armenia.
2022 September - Fighting breaks out between Armenian and Azerbaijani troops along the Armenia-Azerbaijan border, about 50 soldiers on each side are killed in the clashes.
Related Internet Links
The BBC is not responsible for the content of external sites.