Azerbaijan profile - Media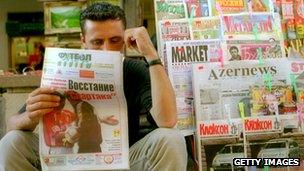 Dissenting voices are practically absent from mainstream media and critical journalists risk arrest and imprisonment.
"President Ilham Aliyev has been waging a relentless war against his remaining critics," Reporters Without Borders (RSF) said in 2017. It said "independent journalists and bloggers are thrown in prison if they do not first yield to harassment, beatings, blackmail, or bribes."
TV is the most popular medium and many homes are hooked up to satellite. All Azerbaijan-based channels toe the government line. Some networks are owned by relatives or associates of the president.
State-owned AzTV runs three national channels and there are four national privately-owned stations. State-funded iTV is a notional public service broadcaster.
Turkish, Russian and Western TVs are available on cable. Opposition and exile TVs use satellite and online distribution. Analogue terrestrial TV was phased out in 2016-17.
Radio outlets focus on entertainment. Around a dozen stations are on FM in Baku and many of them are relayed elsewhere.
Most newspapers were set up for political or personal interests. Their distribution is largely limited to Baku.
There were 7.8 million internet users by 2017, around 78% of the population (Internetworldstats.com). Social media are used as platforms for free expression and activism. Facebook is the leading social network by a wide margin. Twitter is used by politicians and prominent activists.
US-based Freedom House says although the government does not extensively block online content, web users and their families can "face arrest and intimidation, and pro-government trolling distorts political discussions".