German press hails Joachim Gauck presidency nomination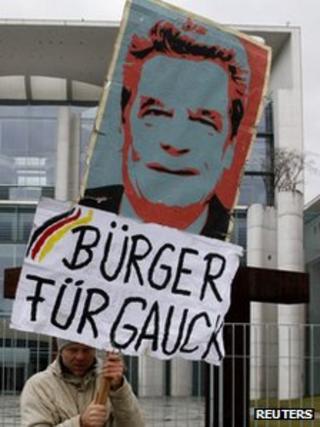 The nomination of Joachim Gauck for the post of German president has been broadly welcomed by the press after the resignation of Christian Wulff. But opinion is divided over the repercussions for Chancellor Angela Merkel, who backed Mr Wulff over Mr Gauck in the previous presidential contest in 2010.
Mathias Doepfner in Germany's best-selling Bild newspaper
"Which qualities does a good president need? Above all, he must master the only instrument he is allowed to play: the spoken word, the art of making speeches. He should have a clear system of values and defend it courageously, and ideally his biography should make him a figure who integrates East and West and Germans of all religions and different life stories. Gauck represents all that personally and politically."
Heribert Prantl in the Sueddeutsche Zeitung
"Joachim Gauck is a skilful and committed man, his strength is his preacher-like emotionalism, the thematic scope of which is, however, very limited. He is not a straightforward candidate, his thoughts and words and sometimes even his actions are guided by emotions. As president he will be difficult to predict, he will irritate people... Gauck himself describes himself as liberal-conservative... On very many social policy issues, Gauck tends towards conservative rather than liberal positions."
Jasper von Altenbockum in the Frankfurter Allgemeine Zeitung
"Gauck is somebody who, from the point of view of the opposition, is meant to demonstrate to the CDU and the CSU [Angela Merkel's Christian Democratic Union and her Christian Social Union allies] how thoroughly the chancellor has failed because she made an all-out effort [in 2010] to push through the election of her party member Wulff against Gauck, the candidate presented as the people's choice."
Torsten Krauel in Die Welt
"For the first time, two former citizens of East Germany, Chancellor Angela Merkel and the future president, Gauck, will hold Germany's two most important offices of state. They are two East Germans with roots in the Protestant Church... He will be a strong president. His word will carry weight next to that of Angela Merkel. It may well be that Merkel is not really comfortable with that prospect."
Stephan Hebel in the Berliner Zeitung
"Angela Merkel has chosen a man as her candidate whom she thwarted only one-and-a-half years ago... But what looks like a defeat for the chancellor need not be one: first, he is no doubt the best among all those who have been talked about as possible candidates recently, and among many others, too; second, she has also managed to turn this crisis to her advantage."
Malte Lehming in Der Tagesspiegel
"Gauck is Merkel's masterpiece. Actively supported by the SPD [Social Democratic Party of Germany] and the Greens, Germany will soon elect the most conservative president it has ever had. Moreover, whatever may happen, the chancellor, who has cleverly helped spread the myth that she was to all intents and purposes opposed to him to the end, can wash her hands of it."
Ulrich Schulte in Die Tageszeitung
"The Greens and the SPD will perhaps not be as pleased with their candidate of choice as they continue to say they are. The next president encapsulates his concerns in the phrase 'freedom in responsibility'. But a lack of freedom is not exactly the biggest problem in our society. The doings of financial markets and banks even make you wish for a little bit less freedom."
BBC Monitoring selects and translates news from radio, television, press, news agencies and the internet from 150 countries in more than 70 languages. It is based in Caversham, UK, and has several bureaux abroad.