Abkhazia Georgia leader Ankvab escapes deadly ambush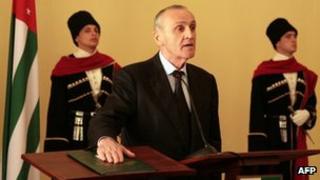 The de facto president of Abkhazia has escaped a mine and gun attack on his convoy which left two of his guards dead and one seriously injured.
Alexander Ankvab confirmed he had not been hurt despite damage to his car, which was attacked as he travelled to work in the capital, Sukhumi.
It is said to be the sixth attempt on his life in recent years.
Abkhazia broke away from Georgia in 1993 and declared independence six years later.
Mr Ankvab was elected president last year after the death of veteran leader Sergei Bagapsh.
Abkhazia's independence is recognised by just a handful of states, led by Russia which has stepped up support since its brief war with Georgia in 2008.
A land mine exploded as the president's convoy passed on the road from Gudauta to Sukhumi at about 08:30 (04:30 GMT).
Unidentified assailants then opened fire with machine-guns and grenade-launchers, destroying one car completely, according to the official Abkhaz news agency, Apsnypress.
Mr Ankvab later told the Associated Press news agency in a telephone interview: "My car was badly damaged, but I'm feeling OK."
The Abkhaz leader has been wounded several times in previous attacks, according to Apsnypress
His car was shot at on the same road twice in 2005, in February and April
A land mine attack in June 2007 was followed by a grenade strike on his jeep that July in which he received a mild concussion and several shrapnel wounds in his back
One night in September 2010, a house where he was staying near Gudauta was hit by a grenade and he was slightly wounded
Conflicting theories
An article published by Apsnypress suggested the latest attack was linked to Mr Ankvab's efforts to eradicate corruption and lawlessness.
"Those who managed to survive the troubled post-war period and want to go on putting their hands in the state budget should understand that there is a limit to everything," it said.
However, in Moscow, Russian foreign ministry spokesman Alexander Lukashevich described the attack as an attempt to destabilise the situation in Abkhazia before parliamentary elections there on 10 March.
Georgia and Russia have maintained an uneasy peace since their war in 2008, which saw Georgian forces driven back from both Abkhazia and a second breakaway region, South Ossetia.
On a visit to Georgian troops in Afghanistan on Monday, President Mikheil Saakashvili told them they were gaining valuable experience at a time when "our enemy has occupied a part of our homeland" - a clear reference to the two regions.
He was speaking beforenews of an ambush by insurgentswhich killed three Georgian corporals in the Afghan province of Helmand, bringing to 15 the number of Georgians killed there since 2009.
Mr Saakashvili said on Wednesday that the deaths had come as a "heavy blow".