France election: Sarkozy brings Dati back for campaign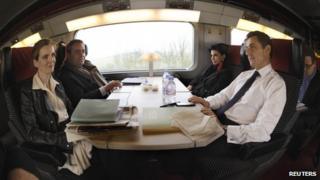 Nicolas Sarkozy has brought an ethnic North African ex-minister back into his re-election campaign, amid claims by critics that he is patronising voters.
On Thursday Rachida Dati appeared with the French president at a big rally in the ethnically diverse city of Lille.
She resigned as justice minister in 2009 amid criticism of her management style and gossip about her clothes and love life.
Opponents of Mr Sarkozy have mocked his assertion that he is non-elitist.
The conservative president insists he wants to be the leader of all French people.
Opinion polls suggest he has narrowed the gap with Socialist challenger Francois Hollande but still lags far behind. Both are tipped to reach the run-off on 6 May.
VIP passengers
He and Ms Dati arrived in Lille by train, a point not lost on journalists, who note Mr Sarkozy almost never travels by rail.
The star quality of the two passengers, and particularly Ms Dati, was reflected in the fact that fans besieged the train at the Gare du Nord station in Paris, delaying its departure by 20 minutes.
"[We've waited] 10 or 15 minutes," one other passenger told an Associated Press news agency reporter.
"Do you know why?"
"Yes, because Rachida Dati is on the train," the passenger replied.
When the reporter said Mr Sarkozy was also on the train, the passenger said: "Ah, I didn't know."
A correspondent for the left-of-centre daily Liberation reports that many of the 10,000 people assembled for the speech in Lille "could not believe their eyes" when Ms Dati appeared on stage.
Since leaving government, Ms Dati, an MEP and district mayor in Paris, has been critical of colleagues in Mr Sarkozy's UMP party, notably Prime Minister Francois Fillon.
"We really need the rallies: we have to forgive everything in order to win," one unnamed local UMP activist told Liberation.
War of wives?
Earlier this week, French journalist Anne Sinclair, wife of troubled former IMF chief Dominique Strauss-Kahn, made a withering attack on Mr Sarkozy and his wife, former super model Carla Bruni.
Sinclair's husband was seen as the man best placed to unseat Mr Sarkozy for the Socialists before a sex scandal engulfed his career. She blogged about the Sarkozy campaign on the French edition of the Huffington Post, which she edits herself.
Picking up on an interview Mrs Bruni-Sarkozy gave to Figaro TV Mag, she said the president's wife had sought to portray herself as somebody who watches downmarket TV shows.
"The president's wife once painted herself to us as a sophisticated, cultured and refined woman (which she no doubt is), who liked the films of Mankiewitz and Fellini," Sinclair wrote.
"Now she's telling the Figaro's TV Mag that she watches programmes which aren't exactly the height of quality.
"Why play this game? In trying to be a woman of the people, isn't she holding them in contempt by choosing to be not what people think she is, but what she thinks they want her to be?"
Sinclair's article appeared as her husband faced questioning about new criminal allegations, this time over an alleged pimping operation and misuse of company funds.