Sweden's new princess named Estelle, king announces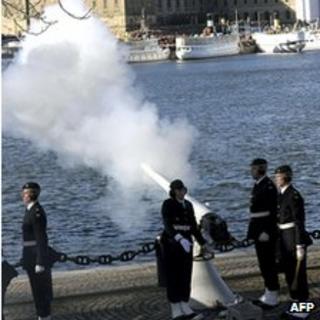 Sweden's new princess, born on Thursday and second in line to the throne, has been named Estelle Silvia Ewa Mary.
King Carl XVI Gustaf made the announcement live on television, at a special cabinet meeting.
Princess Estelle's official title is Duchess of Oestergoetland - a region just south of Stockholm.
The baby's mother, Crown Princess Victoria, 34, is married to her former personal trainer Daniel, 38. The wedding was in June 2010.
Reports say the choice of Estelle - a French name - surprised many Swedes. It had not ranked among the favourites offered by betting agencies, the Swedish news website The Local says.
Silvia is the name of Victoria's mother, while Daniel's mother is named Ewa. No explanation was provided for the choice of Estelle and Mary.
Estelle's birth was greeted by two 21-gun salutes on Skeppsholmen island, opposite the royal palace in the capital Stockholm.
Prince Daniel said his daughter was 51cm (20in) long and weighed 3.28kg (7lb).
It is the first royal birth since Victoria's sister, Madeleine, was born in 1982 and the first grandchild for the king and queen.
The king has been reigning since 1973.
Sweden changed the constitution in 1980, three years after Victoria was born, to allow the eldest heir to inherit the throne, regardless of gender.