Serbia reaches deal over Kosovo ahead of EU verdict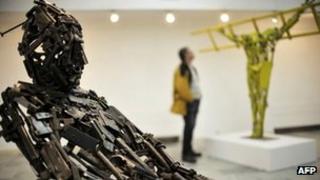 Serbia has reached a deal over its breakaway province of Kosovo, days before the EU is due to deliver its verdict on Belgrade's bid to join.
The Serbs agreed to allow Kosovo to take part in west Balkan regional meetings despite refusing to recognise its self-declared independence.
An EU proposal to have Kosovo's nameplate at meetings followed by an asterisk was accepted.
This will have a footnote explaining the territory's disputed status.
The two sides also agreed to manage jointly their border, scene of recurrent violence between Nato peacekeepers and ethnic Serbs who make up the majority in northern Kosovo.
The agreement followed two months of tortuous negotiations.
Some 80 countries have recognised Kosovo since it declared independence in 2008, but a still larger number have withheld recognition.
"We're very satisfied with the result but it was a really difficult negotiation," said Serbian chief negotiator Borko Stefanovic, quoted by AFP news agency in Brussels.
The footnote agreed will refer to a UN Security Council resolution that makes no mention of Kosovo's independence, and a ruling by the International Court of Justice saying Kosovo's declaration of independence is legal.
A Kosovan request to include in the footnote its own declaration of independence was rejected by Serbia.
Details of the border agreement were not immediately clear.
EU foreign policy chief Catherine Ashton and enlargement commissioner Stefan Fule welcomed the agreements as a "major step forward".
Brussels had wanted Belgrade to make new progress in the talks with Kosovo before backing its bid to join the bloc when EU foreign ministers meet next week to consider whether Serbia has fulfilled the conditions required to be a candidate for membership.
"These agreements... are particularly welcome in view of the deliberations next week regarding candidate status for Serbia,'' Baroness Ashton said.