Russia election: Putin adverts woo 'virgin' voters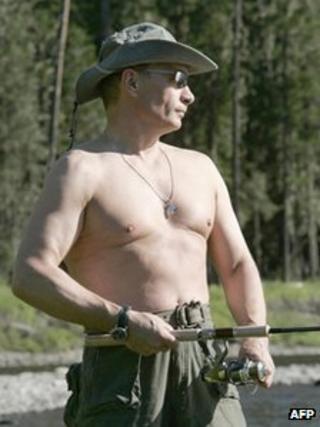 Supporters of Vladimir Putin have posted tongue-in-cheek video adverts likening first-time voters in Russia to virgins who should choose Mr Putin.
Two slickly produced ads on a website called The First Time feature actresses depicting young women consulting doctors about their "first time".
The punch line is they are actually discussing their voting intentions.
Anti-fraud campaigners are circulating an anti-Putin video featuring Russian celebrity socialite Ksenia Sobchak.
Mr Putin is standing for a third term as president on 4 March, three months after alleged widespread ballot-rigging at a general election sparked Russia's biggest anti-government protests in decades.
'Only for love'
Putin supporters have long played up his masculine appeal, and he has famously posed bare-chested for the cameras on holidays.
The website introduces the videos under the slogan "Putin. Only for love the first time".
In one video, a young woman tells a consultant: "You know doctor, I am very scared, although my choice is one of love."
"Of course I understand," the "doctor" replies.
"Everyone is afraid the first time. The main thing is to trust your choice. Because trust is love. And you can trust your choice."
To romantic music, the camera then closes in on a picture of Mr Putin, and the girl is shown walking to a polling station.
In the second video, the doctor tells another young woman: "The main thing is to be sure it's safe. Especially the first time."
Advertising agency Aldus ADV said it had made the videos with the aim of "attracting a young audience to take part" in the presidential election, AFP news agency reports.
The agency did not say who had commissioned the ads.
Russian bloggers were quick to mock them, pointing out that Mr Putin is standing for a third term.
"Putin. Only for love the first time?" asked one tweeter known as @step_42. "Obviously the third time is by force."
Ms Sobchak, daughter of the late mayor of St Petersburg, Anatoly Sobchak, and one of Russia's most popular bloggers, appears looking bedraggled and abused in her spoof video.
In a close-up to the camera, she lists reasons for voting for Mr Putin.
"Now is not the time to rock the boat and we should rally round one leader," she says.
When she finishes speaking, the camera pulls away to show her bound to a chair, after which she is gagged by thugs and bundled away.