Spain cuts leave Valencia's schools in dire straits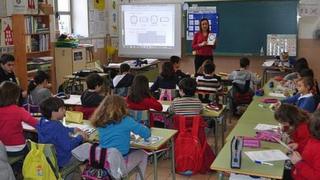 In the Spanish region of Valencia, schools are short of money, because they're owed in some cases tens of thousands of euros by the regional government.
Over the past week there have been several protests and now the students are demonstrating again.
Valencia's government has a debt of more than 20bn euros ($27bn; £17bn). In relation to the size of its economy, that's the worst of all of Spain's autonomous communities.
Last night Standard and Poors became the second credit rating agency in recent weeks to downgrade the regional government's credit rating to "junk status".
Parent aid
Spain's central government has already stepped in to help Valencia meet the payments on its debt.
Many of the region's schools are owed money and, last year, parents at Cervantes primary school in the city of Valencia lent their children's school 9,000 euros.
They and their children also cleaned the school in protest at a cut in the pay and hours worked by school cleaners.
Like other public schools across the region, Cervantes only received money for its 2011 maintenance costs last week.
Headteacher Francesc Catala says the school has already spent most of that money covering previous debts. The regional government, known as the Generalitat, still owes the school 60,000 euros for subsidised meals for the poorer pupils at the school.
Although Valencia's protest movement against the lack of funding for education had already attracted significant popular support, last week was a turning point.
Police were widely criticised in Spain after they used heavy-handed tactics on a crowd of secondary school students who had turned out to demonstrate against the regional government's education reforms.
Images of police officers beating students and pinning them to the floor have only fuelled the demonstrations, which grew in size and noise the following day.
Cutting the debt
Valencia's regional government says reforms to education and reductions in teachers' wages are necessary in order to balance the budget and reduce its debt.
It aims to have no budget deficit by 2014.
However Dr Vicente Pallardo from the University of Valencia says cancelling out the debt will take much longer.
"Maybe we could say that Valencia's government is already bankrupt," he says, "because it is receiving money from the central government to cover current expenditure".
He believes support from Spain's central government will be necessary for the foreseeable future.
"This is not a problem we can fix on our own," he believes, arguing instead for cuts that target non-essential expenditure.
Bubble burst
Headteacher Catala traces the problems back to a period when Valencia's politicians spent money irresponsibly, before the economic crisis hit and Spain's credit bubble burst.
The region's new economy minister, Maximo Boch, argues that those were different times, when people in both the public and private sectors bought beyond their means because credit was cheap.
"Spain is a country where people like to enjoy life and if money is there people tend to spend it," he says. "That happened in private life and in government."
Since 2008, Mr Boch says the government's income has dropped by 2bn euros and the financial situation that his centre-right Popular Party inherited in Valencia when they won regional elections was far worse than they had previously thought.
However, people in Valencia quickly point to the regional airport of Castellon as an example of foolish government spending. The project was finished last year and cost 150m euros.
However it is still not in operation.