Belgium profile - Leaders
King: Philippe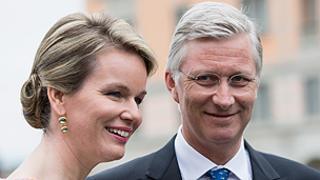 King Philippe succeeded to the throne in July 2013 on the abdication of his father, the 79-year-old Albert II, who stepped down on health grounds.
Born in 1960, the future King Philippe graduated from the Belgian Royal Military Academy and went on to study political science at Oxford and Stanford.
He is a trained fighter pilot and paratrooper, and was widely expected to pass over his father and succeed to the throne on the death of his uncle Baudouin in 1993. But his apparent diffidence in public led to his father becoming king after all.
Prince Philippe became Duke of Brabant and went on to marry Belgian aristocrat Mathilde d'Udekem d'Acoz. They have four children, the eldest of whom, Princess Elisabeth, is heir to the throne.
As Duke of Brabant he served as honorary head of Belgium's Foreign Trade Agency, and flew the flag for Belgian business on dozens of high-level trade missions worldwide.
Respect for the monarchy is one of the few factors that crosses the communal divide in Belgium, and King Albert exercised his constitutional authority in advising political leaders on the formation of a government during the 2010-2011 parliamentary stalemate.
King Philippe, on the other hand, is expected to have a difficult relationship with the hardline Flemish nationalists of the Vlaams Belang, whom he has publicly criticized.
Prime Minister: Charles Michel
After four months of wrangling following the May 2014 parliamentary elections, Reform Movement leader Charles Michel formed a right-wing coalition in October, becoming at 38 the country's youngest prime minister since 1841.
His liberal party comes from the French-speaking community, but the other three parties in the coalition represent Flemish speakers - including the nationalist New Flemish Alliance (N-VA).
The two other coalition partners are the Flemish Christian Democrats (CD&V) and the Open Flemish Liberals and Democrats (Open Vld). The Socialists went into opposition for the first time in 25 years.
Mr Michel's government has promised to carry out major reforms, including tax cuts and pushing the retirement age back from 65 to 67 by 2030, in an attempt to cut the budget deficit.
The new prime minister has been in parliament since 1999, and became Belgium's youngest-ever minister the following year when he took on the interior portfolio in the Wallonia regional government.
He served as minister of development cooperation at federal level in 2007-2011, resigning to become leader of the Reform Movement in 2011.