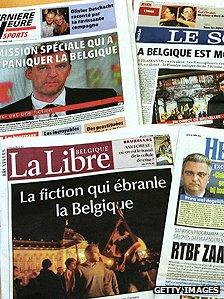 Belgium's media scene reflects the country's cultural make-up. The Flemish, French and German language communities are served by largely separate public and private operators.
So, unlike most other European countries, Belgium does not have a single public broadcasting organisation.
Media ownership is very concentrated. Most newspapers, TV and radio outlets are owned by a small number of Belgian companies. De Persgroep is the largest private media group.
Cable TV is widely watched and stations in neighbouring countries, particularly France and the Netherlands, have large audiences.
Global media watchdogs give Belgium high ratings for press freedom. A law on journalists' rights to keep their contacts confidential is "one of the most protective in the world", says Reporters Without Borders.
There were 10.8 million internet users by December 2017 (InternetWorldStats.com). Facebook is the leading social media platform.
RTBF - public, French-language public broadcaster; stations include La Premiere, Classic 21, Vivacite
VRT - public, Dutch-language public broadcaster; stations include Radio 1, Studio Brussel
Belgischer Rundfunk (BRF) - German-language public broadcaster