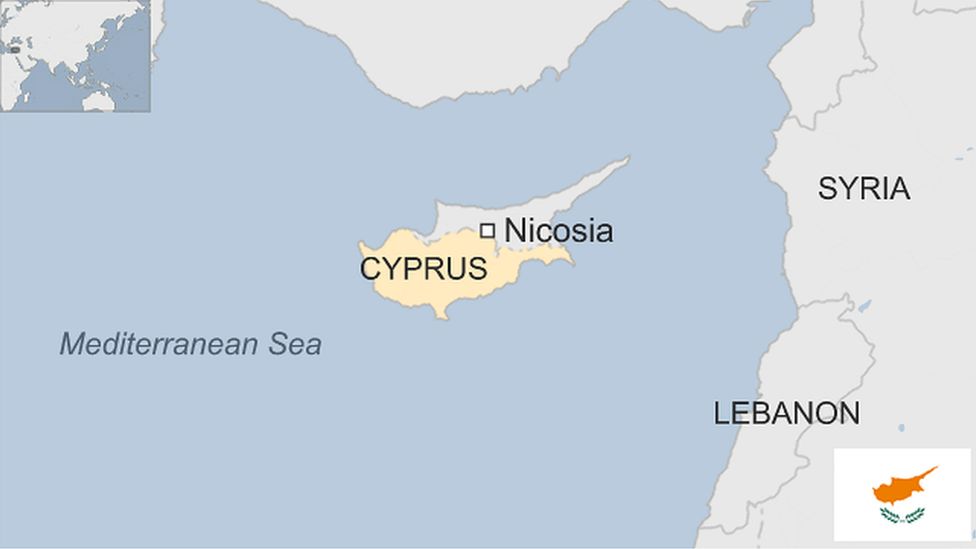 In legend the birthplace of the ancient Greek goddess of love Aphrodite, Cyprus's modern history has, in contrast, been dominated by tension between its Greek and Turkish inhabitants.
Cyprus has been divided since 1974 when Turkey invaded the north in response to a military coup on the island which was backed by the Greek government.
The island was effectively partitioned, with the northern third run by a Turkish Cypriot government and the southern two-thirds by the internationally-recognised government led by Greek Cypriots.
United Nations troops patrol the "Green Line" dividing the two parts, and reunification talks have made slow progress.
Cyprus has successfully diversified its largely agrarian economy into one based on services - including a large tourism sector - and light manufacturing.
More recently it has also developed into an important financial hub, especially for investors from Russia and Eastern Europe.
REPUBLIC OF CYPRUS: FACTS
Capital: Nicosia
Area: 9,251 sq km (combined)
Population: 1.2 million (combined)
Languages: Greek, Turkish
Life expectancy: 79 years (men) 83 years (women)
President: Nikos Christodoulides
Nikos Christodoulides is the island's first leader to be born in an independent Cyprus.
Backed by centrist and right-wing parties, Christodoulides was foreign minister until early 2022, He won 52% of the vote over his main rival, leftist-backed Andreas Mavroyiannis in the run-off of the February 2023 presidential election.
He has said that his prime focus as president is to find a solution to the Cyprus problem, following on from similar earlier statements he made as foreign minister.
Turkish Cypriot leader: Ersin Tatar
Ersin Tatar won a narrow victory in the second round of the October 2020 elections, beating the incumbent Mustafa Akıncı. The vote had been scheduled for April 2020 but was delayed six months because of the Covid-19 pandemic.
Mustafa Akıncı had campaigned on a federal solution to the Cyprus dispute, and Ersin Tatar, then the Prime Minister, had campaigned in favour of a two-state solution.
Five days before the first round of voting, Tatar announced a partial reopening of the ghost town of Varosha would partly reopen. Varosha had been sealed off since the 1974 conflict and the flight of its Greek Cypriot population. The announcement led to international criticism and the fall of his cabinet after the junior partner in the coalition withdrew from the government.
In September 2021, after a meeting with UN Secretary-General Antonio Guterres and then-President Nicos Anastasiades, Tatar said that talks on the future of Cyprus would not start unless they took into consideration "the sovereign equality and international status of the Turkish Republic of Northern Cyprus".
The status of Northern Cyprus as a separate political entity is recognised only by Turkey.
The Cypriot media mirror the island's political division, with the Turkish-controlled zone in the north operating its own press and broadcasters.
There were 1.1 million internet users in Cyprus by January 2022, 97% of the population, and 1.2 million Facebook users (Internetworldstats.com).
Some key dates in the history of Cyprus:
1914 - Cyprus annexed by Britain, after more than 300 years of Ottoman rule. Britain had occupied the island in 1878, although it remained nominally under Ottoman sovereignty.
1955 - Greek Cypriots begin guerrilla war against British rule. The guerrilla movement, the National Organisation of Cypriot Combatants (EOKA), wants enosis (unification) with Greece.
1960 - Britain grants independence to Cyprus under a power-sharing constitution between Turkish and Greek Cypriots, holding intervention rights over the island along with Turkey and Greece.
1963 - President Makarios raises Turkish fears by proposing constitutional changes which would abrogate power-sharing arrangements. Inter-communal violence erupts. Turkish side withdraws from power-sharing.
1974 - Military junta in Greece backs coup against President Makarios, prompting Turkish invasion and occupation of a third of the island. Greek and Turkish Cypriots flee in opposite directions.
1983 - Rauf Denktas declares a Turkish Republic of Northern Cyprus, which is recognised only by Turkey.
2001 - UN Security Council renews its decades-long mission. Some 2,400 peacekeepers patrol the buffer zone between Greek and Turkish Cypriots.
2003 - Turkish and Greek Cypriots cross island's dividing "green line" for first time in 30 years after Turkish Cypriot authorities ease border restrictions.
2004 - Cyprus joins the EU, but does so as a divided island.
2008 - Cyprus adopts the euro. The symbolic Ledra Street crossing between the Turkish and Greek sectors of Nicosia is reopened for first time since 1964.
2013 - Cyprus negotiates deal to extricate its financial sector from the eurozone debt crisis.
2018 - First new buffer-zone crossings in eight years are opened at Deryneia in the east and Lefke in the west.
Related Internet Links
The BBC is not responsible for the content of external sites.