Dublin patron saint's heart stolen from Christ Church Cathedral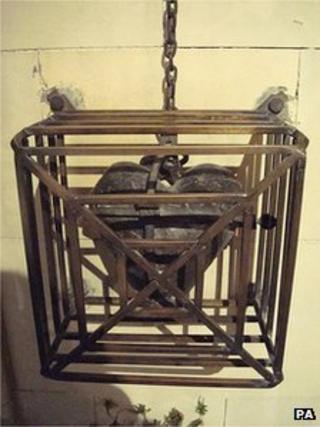 The preserved heart of Dublin's patron saint has been stolen from the city's Christ Church Cathedral, officials say.
The thief would have needed metal cutters to prise open the iron bars protecting the wooden heart-shaped box holding St Laurence O'Toole's heart.
Police believe it happened some time between Friday night and about 12.30 GMT on Saturday.
"They specifically targeted this, they wanted the heart of St Laurence O'Toole," a church spokeswoman said.
"It's completely bizarre," she said, adding that valuable gold chalices and gold candlesticks were ignored by the thief.
The heart has been a major pilgrimage site at Christ Church since the medieval period.
'Priceless treasure'
The dean of Christ Church Cathedral and the diocese of Dublin and Glendalough, the Rev Dermot Dunne, said he was "devastated" by the theft of the 12th Century relic.
"It has no economic value but it is a priceless treasure that links our present foundation with its founding father, St Laurence O'Toole," he added.
The church received about 40 visitors between 09:30 GMT and 12:30 GMT when the theft was discovered, but church officials said the thief could have hidden in the building overnight.
There were no initial signs of any alarms or break-ins at the cathedral, although one staff member did see a candle alight when they arrived to open the church.
St Laurence O'Toole was born Lorcan Ua Tuathail in Castledermot, Co Kildare, in 1128. He was appointed Archbishop of Dublin after the death of Archbishop Gregory in 1162.
He died in November 1180 in Normandy, France, and was canonised in 1225 because of miracles said to have happened at his tomb.
Each Lent he returned to Glendalough, in Co Wicklow, where he lived in St Kevin's Cell, a sort of cave, for 40 days.
Relic raids
In recent months other relics have been stolen in the Irish Republic.
An ornate container that usually contained a relic of St Brigid was stolen from St Brigid's Church, Killester, north of Dublin, where it was screwed onto the altar.
And in October last year a relic believed to be from the cross on which Jesus was crucified, was stolen from Holycross Abbey, near Thurles.
It was later returned after a police search.