Russian elections: Hunting the 'carousel' voters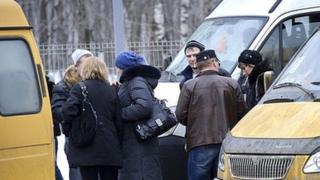 "You can't film my people," the young man told me at a petrol station some miles south of Moscow.
I had gone there because of reports that people were being bussed between polling stations, casting multiple votes in a practice known as "carousel" voting. Independent election monitors said some of them had been followed to this petrol station.
After a stream of swear words, the young man in question, Dmitry Yakovlev, asked me to get into my car and leave.
Dmitry's "people" refused to answer my questions and avoided my camera.
As well as us, there were several yellow people-carriers, their number-plates showing they were from the neighbouring region of Tula. Inside the vehicles were men and women of all ages.
Moments before, seven white tourist buses and minibuses had driven off, again with Tula licence plates.
As the election took place, yellow people-carriers and buses with regional plates were spotted around Moscow.
Observers at polling stations said those inside the vehicles came in twos and threes and cast their votes using an absentee ballot, and possibly more than once.
Student Leonid Prokhorov, one of the Moscow observers, was sure they were "carousel" voters. He took pictures of them and made notes of where they had come from and which cars they were returning to.
At his polling station, the central election committee said nearly 100 out of a total of 1,615 ballots came from absentee voters. A neighbouring polling station registered a similar number.
Another observer, Sabina Shukyurova, tried to take pictures of queues of people registering to use their absentee ballot. But she was told to go away by the election committee official.
The official told the BBC she had tried to photograph voters' personal details.
But she and other observers said that officials had raised no objections about photos until the suspicious bus-loads of voters arrived.
The Tula voters duly cast their ballots while the observers described seeing the same people vote again and again at different polling stations.
'I lost control'
Even if this sudden influx of out-of-town voters was all above board and innocent, organising mass transport to ferry voters to polling stations is illegal.
The mobile team of observers followed the suspicious yellow buses around for hours. In the end, they too ended up at our petrol station in the middle of nowhere.
The observers provoked an unexpected response from the bus passengers.
Muscular young men surrounded the observers' car and started rocking it. When the car drove off, it was targeted with empty bottles.
"Of course I lost control," Dmitry Yakovlev told me. "It's easy to accuse people of stuff, but once you're accused it's impossible to clean up your reputation."
Dmitry, it appears, is president of his region's skiing organisation. He explained that the people in the buses were athletes, coaches and sporting academy heads who had all come to Moscow to take part in a competition.
The skiers had been due to play mini-football in an area of Moscow but the event had been cancelled.
"I myself have not been to any polling stations," he assured me. But he added that the carousel story was not worth pursuing.
He said the country should carry on as it was and even if there had been violations in the election, the most important thing was that people were being paid for their work.
As the yellow buses headed back to Tula, Dmitry followed swiftly behind.