France election: Who will endorse Marine Le Pen?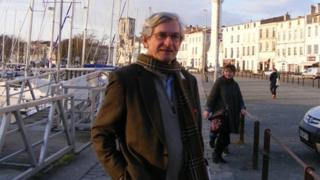 Jean-Marc de Lacoste Lareymondie is piling on the miles.
As head of the far-right National Front (FN) in Charente-Maritime in Western France, he has been criss-crossing the department for weeks, pleading with mayors to endorse the candidacy of Marine Le Pen, the FN's leader, in next month's presidential election.
The party's anti-immigration platform has led to it being widely perceived as racist. It is shunned by all the mainstream parties, which view the FN as toxic and want nothing to do with it.
It needs to hand in a minimum of 500 signatures to the Constitutional Council by 16 March for Ms Le Pen's name to be on the ballot, and she said on Thursday that she was "about 30" short of the target.
"It is a Herculean task," Mr de Lacoste says wearily, sitting in a cafe in the beautiful port city of La Rochelle after another long day on the road.
"For the past five weeks I've driven 5,000km (3,000 miles). We don't trust anyone with the endorsement forms. There can be a postal strike or delays, so I collect them in person, even if that means driving 200km in a day."
Mr de Lacoste is not alone. Throughout France, local FN activists are frantically working to gather signatures from elected officials. Ms Le Pen has been sounding increasingly alarmed about the endorsements, orparrainages.
In a tweet on Wednesday, she wrote: "I've just spent three hours on the phone to mayors. I'm worried." Then she told reporters on Thursday: "I'm looking but having trouble finding them."
Last week she asked whether France was still a democracy if a candidate that attracted between 15% and 20% of the vote was prevented from standing before voters.
'Paralysed by publicity'
Ms Le Pen is facing an uphill struggle because elected officials from mainstream parties are under strict orders not to sign.
The FN has no representative in the assembly or the Senate. Ms Le Pen can count on 120-oddparrainagesfrom the party's 120 regional and departmental council members, as well as its three MEPs. But that is nowhere near enough.
To make up the numbers, the FN has to rely on France's pool of 37,000 mayors, many of whom are independents presiding over small rural communities. Urban mayors tend to be dutiful party members.
Mr de Lacoste faces a tough task in Charente-Maritime. The FN has never been strong in an area where towns have traditionally been controlled by the centre-left and the surrounding countryside by the mainstream right.
"So far I can count theparrainagesI've managed to scrape together on the fingers of one hand - out of 480 mayors!" he says.
The problem for the National Front is that endorsements are made public. Last month, France's Constitutional Council rejected Ms Le Pen's request to switch back to anonymous endorsements, which prevailed until the law was changed in the 1970s.
"They are all paralysed by the publicity," Mr de Lacoste says.
"In the 2007 election some of those who endorsed Jean-Marie Le Pen [Ms Le Pen's father and predecessor as party leader] had their homes daubed with graffiti, their tyres punctured, and they were insulted by half their voters. So now they don't want any trouble."
But Mr de Lacoste is not giving up. He calls on every mayor who agrees to see him, even those from a hostile mainstream party.
"I meet them regardless because it's always interesting to talk to people. I know they won't sign, but they end up acknowledging there is a democratic issue here. It may affect their thinking in the long term - you never know."
And some reluctant ones may overcome their scruples at the last minute. Jacques Gely, another local FN activist who has been working the mayors up and down Charente-Maritime, says that some have told him they may end up signing on the dotted line if Ms Le Pen is still a few endorsements short next week.
Many commentators accuse Ms Le Pen of milking the issue to pose as a victim. This, they say, chimes with her condemnation of a corrupt "oligarchy" bent on shutting out the voice of the people.
False alarm?
It is impossible to confirm exactly how close Ms Le Pen is to the magic 500 number. But sceptics point out that Jean-Marie Le Pen similarly sounded the alarm in the 2002 and 2007 elections and ended up collecting enough endorsements.
The suspicion that Ms Le Pen is faking desperation to attract the sympathy vote angers Mr de Lacoste.
"If we had the signatures in the bag, do you think I'd be working my tail off like this?" he says.
"We'd rather be campaigning like the others! It's scandalous that we have to do this."
He also points out that Mr Le Pen got only 507 signatures in 2007: "Forty-eight hours before the deadline he didn't have them. And now it's the same. Nothing is assured. We have cold sweats every night."
Most commentators point out that France's system ofparrainagesperforms a useful function.
"It is legitimate filter," says political analyst and broadcaster Brice Couturier. He argues that the democratic need for voters to choose their leaders must be tempered with liberal principles: gatekeepers should prevent populist demagogues from undermining democracy from inside.
Mr de Lacoste disagrees. The parrainages, he concedes, may once have served to keep out those bent on making a mockery of elections. There is no Official Monster Raving Loony Party in France, for example, such as in the UK.
"But the system has been diverted from its original purpose," the National Front official believes. "It does not filter out clownish candidates. It now filters out candidates who pose a danger to those in power."