Anders Behring Breivik case: Police quiz killer's father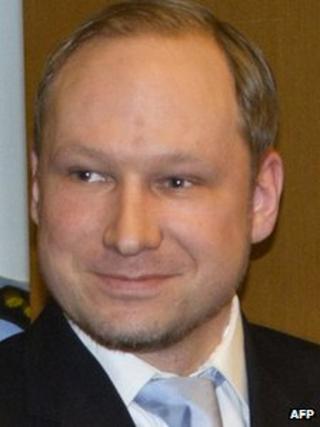 French and Norwegian police have spent 13 hours questioning the father of Anders Behring Breivik, the right-wing extremist who killed 77 people in attacks in Norway last July.
Jens Breivik, a retired diplomat, lives in the south of France.
State prosecutor Christian Hatlo said Mr Breivik had "answered questions related to the defendant's childhood, and their relationship".
Anders Behring Breivik is expected to go on trial on 16 April.
Mr Hatlo said the interview took place in the town of Carcassonne, and was led by French detectives.
Norwegian officers were allowed to ask follow-up questions.
Last month, Norwegian police said they had requested assistance from their French colleagues to be able to question Mr Breivik.
French prosecutors agreed and the interview was held on Wednesday, with an interpreter present.
Following the separation of his parents shortly after his birth, Anders Behring Breivik grew up living with his mother and half-sister, who have both already been questioned by police.
It is thought he has had little or no contact with his father for many years.
On Wednesday, Breivik, who confessed to the attacks which also left 242 injured, was charged with committing acts of terror.
Prosecutors have indicated they consider Breivik mentally ill and will seek to have him committed to psychiatric care rather than jailed.