Afghanistan: Germany's Merkel in troop deadline warning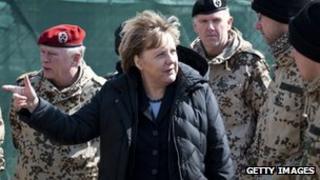 German Chancellor Angela Merkel has said that the circumstances are not yet right for her country's troops to leave Afghanistan in 2014.
"I cannot say we will manage this by 2013-2014. The will is there, we want to succeed," she said during a visit to northern Afghanistan.
Speaking in Mazar-e Sharif, she condemned Sunday's murders of 16 people by a US soldier as a "dreadful deed".
Mrs Merkel gave her condolences in a phone call to President Hamid Karzai.
Germany has 4,800 troops in Afghanistan, the third biggest contingent in the International Security Assistance Force (Isaf) after the US and the UK.
The number is set to be reduced by 400 in 2013, with the remainder withdrawn by the end of 2014, in common with the rest of the Nato-led force.
Tight security
German media said that the chancellor's unannounced visit to Afghanistan, her first since December 2010 and her fourth overall, had been planned some time before the murders of 16 people, including nine children, in Kandahar province on Sunday.
There was tight security as Mrs Merkel visited the main German base at Camp Marmal, outside Mazar-e Sharif, but a trip to another base at Kunduz was cancelled because of bad weather.
In her conversation with Mr Karzai, she promised that Isaf would do all it could do find out what had led to the killings in villages close to a US base.
Mrs Merkel congratulated the Afghan president on progress made toward building an Afghan security force but said far greater progress was needed on achieving reconciliation with insurgents before troops were withdrawn.
In January, German forces handed over security of the northern province of Badakhshan to Afghan control. But Mrs Merkel's remarks on Monday appeared to raise doubts about the 2014 deadline for Isaf to leave Afghanistan.
A German official, quoted by Reuters news agency, emphasised that the chancellor was "not calling into question the withdrawal plan".