Journalists in Turkey coup plot trial freed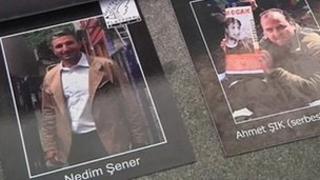 Four Turkish journalists accused of involvement in a plot to topple the government have been freed.
Ahmet Sik, Nedim Sener, Coskun Musluk and Sait Cakir were accused of being part of Ergenekon, allegedly a secret military-backed organisation.
A court in Istanbul released the four because of the time they have spent in jail and the fact that the charges against them might be changed.
The case is being seen as a test of media freedom in Turkey.
The four were among 13 defendants in the case, six of whom remain in jail.
The journalists had been accused of acting as the media wing of the Ergenekon plot.
Their supporters say the trial is based on fabricated evidence and aims to silence government opponents.
Surprise decision
Relatives and friends of the freed journalists shouted for joy outside the court, Reuters reports.
"Today's decision was a surprise for Ahmet and Nedim. They didn't expect it either," Mr Sik's brother Bulent told Reuters.
Mr Sik and Mr Sener had been in custody for a year. Both men are prominent figures in the Turkish media.
Mr Sener's investigation into the assassination of the ethnic Armenian writer Hrant Dink won him a press freedom award.
Mr Sik has reported on human rights abuses and on what he describes as illegal Islamist networks operating within the Turkish state.
The case has sharply divided opinion in Turkey, putting the government's human rights record under international scrutiny at a time when it is actively promoting democratic values in the rest of the Muslim world.
Human rights organisations say Turkey has one of the highest numbers of journalists in detention in the world.
In January, journalists were among more than 30 arrested in a crackdown on Kurdish activists with alleged links to the banned Kurdish Workers Party (PKK).