EU warns Macedonia over ethnic violence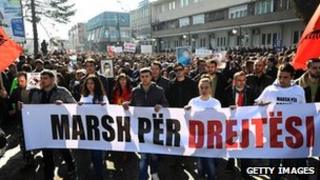 The EU has condemned Macedonia's worst outbreak of communal violence since the country verged on civil war in 2001.
Dozens have been wounded in two weeks of clashes between ethnic Macedonian and Albanian youths.
A spokesman for the EU's Enlargement Commissioner, Peter Stano, said he "deeply regretted" the beatings and warned against possible "emotional consequences".
The former Yugoslav republic's bid to join the EU is currently deadlocked.
The unrest has seen youths wielding metal bars, baseball bats and knives attack each other and passers-by.
At least 20 people were arrested in connection with the violence, which was mostly focused on public transport and the capital Skopje.
Police have tightened security in several towns across Macedonia in an effort to stem the unrest.
Tension between the two communities has been on the rise since the killing of two ethnic Albanians by an off-duty police officer in the town of Gostivar, in the northwest, last month.
Macedonia nearly slid into civil war in 2001, when rebels demanding greater rights for the ethnic Albanian minority launched an uprising against the Skopje authorities.
Further conflict was averted by the Ohrid peace agreement, which guaranteed ethnic Albanians greater recognition, but tensions have continued to simmer.
Ethnic Albanians, concentrated mainly near the northern border and districts of Skopje, make up about a quarter of Macedonia's population. The majority of the country speaks Macedonian, a Slavic language.
EU Enlargement Commissioner Stefan Fuele is due to visit on Thursday for talks with Prime Minister Nikola Gruevski on how to proceed with Macedonia's stalled EU membership bid.
Progress has been held up by objections from Greece - an EU member - to recognition of the former Yugoslav republic's use of the name "Macedonia".
It says use of the name implies a claim to the northern Greek province of Macedonia, and a challenge to what Athens describes as Macedonia's historically Greek identity.