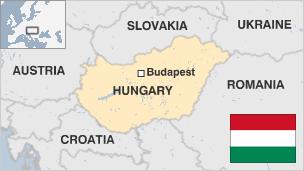 Hungary traces its history back to the Magyars, an alliance of semi-nomadic tribes from southern Russia and the Black Sea coast that arrived in the region in the ninth Century.
After centuries as a powerful medieval kingdom, Hungary was part of the Ottoman and then Habsburg empires from the 16th Century onwards, emerging as an independent country again after World War One.
After decades under Communist rule, Hungary's status as a liberal democracy and member of the European Union has been questioned by the increasingly authoritarian actions of populist right-wing Prime Minister Viktor Orban.
A landlocked country, Hungary is home to Lake Balaton, the largest in central Europe, and to a large number of spa towns and hot springs.
REPUBLIC OF HUNGARY: FACTS
Capital: Budapest
Area: 93,030 sq km
Population: 9.78 million
Languages: Hungarian
Life expectancy: 72 years (men) 79 years (women)
A former minister for the family, and a member of parliament for the governing Fidesz party, Katalin Novak was elected president in May 2022 in a parliamentary vote.
Aged 44 when elected, she is Hungary's youngest and first female president. The presidency is a largely ceremonial post.
Prime minister: Viktor Orban
Viktor Orban has concentrated an unprecedented amount of power in his hands while alarming other EU leaders with his brand of nationalist populism.
He has described his goal for Hungary as creating an "illiberal state", and argues that authoritarian systems like those in China, Turkey and Russia are a more appropriate model than Western liberal democracies.
He won a fourth straight term in power at elections in April 2022.
The governing Fidesz party has taken steps to bolster its media influence.
Hundreds of pro-government media outlets formerly owned by business figures loyal to Prime Minister Orban have merged to form a conglomerate.
Nonetheless, Reporters Without Borders says the media landscape is varied, with online outlets engaging in investigative reporting.
Some key dates in Hungary's modern history:
1867 - Hungary becomes equal partner in Austro-Hungarian Empire.
1918 - Austro-Hungarian Empire is broken up at the end of World War One.
1920 - Under the Treaty of Trianon, Entente powers award more than two-thirds of Hungarian territory to Czechoslovakia, Romania and Yugoslavia, leaving a third of Hungarian speakers living outside the country.
1920s-1930s - Admiral Horthy's rule is characterised by bitter resentment at loss of Hungarian territories, becomes progressively more reactionary and more closely allied with Nazi Germany.
1941-1945 - Hungary fights on the side of Nazi Germany in World War Two, losing a large part of its army in Russia. The Germans occupy Hungary in in 1944 after Hungary seeks an armistice. Hundreds of thousands of Jews and gypsies are deported to death camps.
1947-49 - Communists consolidate power under the Soviet occupation, with a new constitution, the nationalisation of industry, collectivised agriculture and mass terror.
1956 - An uprising against Soviet domination suppressed by the Soviet Army. Janos Kadar becomes head of government.
1989-91 - Fall of communism after the opening of the border with Austria to allow thousands of East Germans escape to the West. Democratic elections are held and Soviet forces withdraw from Hungary.
1999 - Hungary joins Nato.
2004 - Hungary is one of 10 new states to join the EU.
2010 - Populist right-wing Prime Minister Viktor Orban consolidates power with increasingly authoritarian measures.
2022 June - Hungary bans the discussion of gender and sexual diversity in schools, the media and advertising. The law, which conflates paedophilia with homosexuality and expressions of gender identity, is challenged by the European Commission.
2022 September - European Parliament passes a resolution stating that Hungary has become a "hybrid regime of electoral autocracy" under Orban's government
Related Internet Links
The BBC is not responsible for the content of external sites.