Hungary profile - Leaders
President: Janos Ader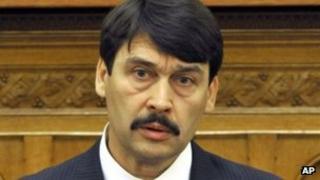 A lawyer and member of the European Parliament for Hungary's governing Fidesz party, Janos Ader was elected president of Hungary in 2012 in a parliamentary vote that was boycotted by the main opposition Socialist Party.
He took over from Pal Schmitt, another Fidesz loyalist who was forced to resign after a Hungarian magazine revealed that his 1992 doctoral thesis was extensively plagiarised.
Mr Ader is closely associated with the controversial policies of Prime Minister Viktor Orban, and helped draft changes to election laws and the role of the judiciary that prompted complaints from the European Commission.
Prime minister: Viktor Orban
Since starting his second stint as prime minister in 2010, Viktor Orban has concentrated an unprecedented amount of power in his hands while alarming other EU leaders with his brand of nationalist populism.
He has described his goal for Hungary as creating an "illiberal state", and argues that authoritarian systems such as China, Turkey and Russia are a more appropriate model than Western liberal democracies.
Critics say a media law introduced in 2011 undermined pluralism and created a compliant media, while a new constitution pushed through in 2012 weakened political checks and balances and entrenched the ruling party's power.
Mr Orban rejects such charges, insisting that Hungary's unique character and history mean that the nature of Hungarian democracy is necessarily different from that in other countries.
On foreign policy, he has been critical of the EU's tough line on Russia's annexation of the Crimea and support for rebels in Ukraine, saying that Hungary relies on cooperation with Moscow, particularly on the economy and energy. But he has stopped short of vetoing EU sanctions on Russia.
Mr Orban remains popular inside Hungary on the whole, and in 2014 his government won a second consecutive term in office.
His tough line in the 2015 European migrant crisis - in particular his rejection of EU quotas requiring members to accept a certain number of migrants - also went down well with many Hungarians.
He first became leader of the centre-right Fidesz party in 1993, when he took the previously liberal party in a more conservative direction.
After his first stint as prime minister from 1998 to 2002, he spent eight years in opposition before winning a landslide victory in the wake of the global financial crisis of 2008.
The crisis left Hungary facing a huge budget deficit, and the then Socialist government was forced to turn to the International Monetary Fund for assistance and implement a deeply unpopular austerity programme.