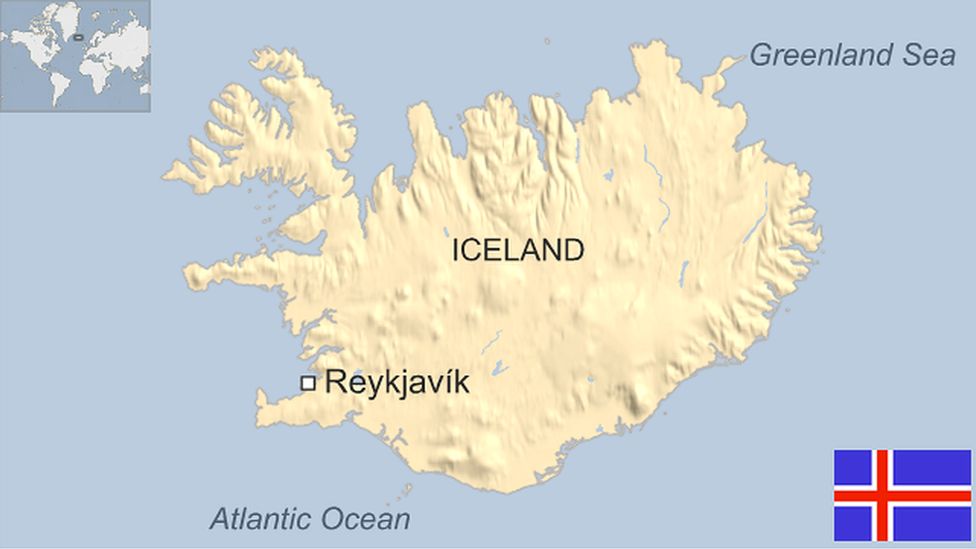 A sparsely-populated North Atlantic island, Iceland is famous for its hot springs, geysers and active volcanoes. Lava fields cover much of the land and hot water is pumped from under the ground to supply much of the country's heating.
Iceland became an independent republic in 1944 and went on to become one of the world's most prosperous economies. However, the collapse of the banking system in 2008 exposed that prosperity as having been built on a dangerously vulnerable economic model.
The affluence enjoyed by Icelanders before 2008 initially rested on the fishing industry, but with the gradual contraction of this sector the Icelandic economy developed into new areas.
REPUBLIC OF ICELAND: FACTS
Capital: Reykjavik
Area: 102,775 sq km
Population: 376,000
Language: Icelandic
Life expectancy: 80 years (men) 84 years (women)
President: Gudni Johannesson
University historian Gudni Johannesson won Iceland's presidential election in June 2016 with 39.1% of the vote. He was reelected in 2020 with 92.2% of the vote.
Mr Johanesson succeeded Olafur Ragnar Grimsson, who stepped down in August 2016 after 20 years.
He has has emphasized the importance of unity for a small country like Iceland. He is not affiliated to any political party.
Prime minister: Katrin Jakobsdottir
Katrin Jakobsdottir was returned as prime minister in the September 2021 general elections heading the coalition government.
The Independence Party, Progressive Party and Left-Green Movement - agreed to continue with Jakobsdottir, who heads the Left-Green Movement, remaining prime minister despite her party being the smallest of the three.
She became prime minister after her Left-Green Movement agreed to form a coalition government in November 2017.
She opposes Icelandic membership of Nato but the government is not intending to withdraw from the alliance or hold a referendum on membership as part of the compromise between the Left-Greens and their coalition partners.
The government does not intend to hold a referendum on restarting Iceland's accession negotiations with the EU.
National public radio and TV are provided by the state-owned Icelandic National Broadcasting Service (RUV).
Ownership of private media is highly concentrated. The constitution guarantees press freedom.
Some key dates in Iceland's history:
1918 - Iceland achieves full self-government under the Danish crown.
1940 - German forces occupy Denmark. British forces occupy Iceland.
1941 - The United States takes over the defence of Iceland and stations thousands of troops there.
1943 - The Treaty of Union with Denmark runs out, with Denmark still occupied by Nazi Germany.
1944 - Icelanders vote in a referendum overwhelmingly to cut all ties with Denmark and become a republic. The Republic of Iceland is proclaimed.
1949 - Iceland becomes a member of Nato.
1970 - Iceland joins European Free Trade Association (EFTA).
2008 - After years of growth between the late 1990s and mid-2000s, Iceland's economy collapses as a result of massive currency depreciation and the failure of its domestic banking industry.
Related Internet Links
The BBC is not responsible for the content of external sites.