Austria profile - Leaders
President: Alexander Van der Bellen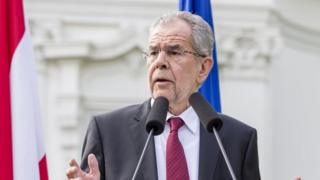 Alexander van der Bellen made headlines across Europe when he won the largely ceremonial presidency in an extremely tight run-off vote against Norbert Hofer of the far-right Freedom Party in May 2016.
But the election had to be re-run after Mr Hofer successfully challenged the result over irregularities. Mr van der Bellen won a more conclusive victory in December, taking office the following month.
The possibility of the election of Europe's first far-right head of state since the Second World War had drawn an unusual level of media attention to an election dominated by the European migration crisis and disenchantment with the political establishment.
The elimination of the candidates of both the two traditionally dominant centrist parties - the Social Democrats and People's Party - in the first round left Mr Van der Bellen - a Green standing as an independent - as the only mainstream candidate.
Born in Vienna in 1944 to a former Russian aristocratic family that had fled Estonia after its invasion by the Soviet Union, he has often called himself a "child of refugees".
Chancellor (outgoing): Christian Kern
Christian Kern was sworn in as chancellor and chairman of the Social Democratic Party in May 2016, following the resignation of Werner Faymann from both posts after a string of poor election results.
As head of Austrian Railways, Mr Kern oversaw the mass transit of Middle Easter refugees to Germany by rail in 2015, and was later named in a lawsuit launched by the far-right Freedom Party against government officials over their alleged failure to protect Austria's borders.
As chancellor he continued the traditional post-war coalition with the conservative People's Party, but sought to present himself as an anti-bureaucratic reformer in the hope of heading off widespread pubic discontent with the establishment.
Federal elections in October 2017 seemed to vindicate this approach, as the Social Democrats' vote held up, but a strong swing to the People's and Freedom Parties, combined with a collapse in the Green vote, left the People's Party's Sebastian Kern poised to form the next government.