Italy profile - Leaders
President: Sergio Mattarella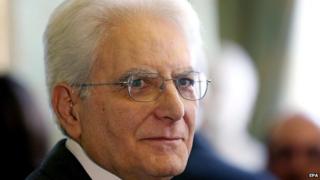 Sergio Mattarella, a constitutional court judge and veteran centre-left politician, was chosen as president by members of parliament in January 2015.
He succeeded Giorgio Napolitano, who stepped down due to old age.
Mr Mattarella was the candidate proposed by Prime Minister Matteo Renzi, but was opposed by the centre-right party of Silvio Berlusconi.
He was little known among the general public but is a respected figure in political circles after a 25-year parliamentary career and several stints as minister in governments of the left and right.
He entered politics after his elder brother, who was president of the region of Sicily, was murdered by the Mafia 1980.
The Italian president is a largely ceremonial figure, but he wields important powers at times of political instability, a frequent scourge in Italy, when he can dissolve parliament, call elections and pick prime ministers.
Prime Minister: Matteo Renzi
Matteo Renzi became the youngest prime minister in modern Italian history after triggering the ousting of his fellow centre-left Democratic Party (PD) colleague Enrico Letta in February 2014.
Mr Renzi came to power with a programme of rapid economic and political reform, including tax cuts, investment in jobs and removing law-making powers from the upper house, the Senate.
Unusually, the PD leader was not a member of parliament when President Giorgio Napolitano nominated him to form a government, but the outgoing mayor of his native Florence.
Mr Letta had resigned after only a year as prime minister after the PD voted in favour of an urgent change of government to push through reforms.
The showdown came after Mr Renzi, who was elected the party's leader in December 2013, called for "profound change" to get Italy "out of the quagmire".
Born in 1975, Mr Renzi presents himself as a radical break from the past in both style and policy, and his rise has been widely hailed as heralding an overdue generational change.
"The Scrapper"
His calls for the entire Italian political establishment - seen by many Italians as corrupt and discredited - to be swept away has earned him the moniker Il Rottamatore ("The Scrapper").
He scored a major success in May 2015 when parliament approved a reform of the electoral system to give the largest party an automatic majority of seats, a measure that Mr Renzi hopes will provide for more stable and decisive government.
He wants to move the PD to the centre and to reach out to new voters, leading to frequent comparisons with Tony Blair, the similarly centrist former social democratic prime minister of the United Kingdom.
Apart from the PD, Mr Renzi's new government includes several smaller centrist parties.
After inconclusive elections held in the middle of a deep recession, Mr Renzi's predecessor, Enrico Letta, in April 2013 needed a broad partnership with former Prime Minister Silvio Berlusconi's conservatives, as well as centrists led by former prime minister Mario Monti, to form a government.
The coalition at first appeared to pave the way for yet another political comeback for Mr Berlusconi, who was forced to resign in 2011 as Italy slid deeper into the eurozone's sovereign debt crisis.
But in August 2013, the Supreme Court upheld a custodial sentence for Mr Berlusconi in the first of a series of criminal convictions. The former prime minister, who dominated Italian politics for decades, was expelled from parliament later in the year.