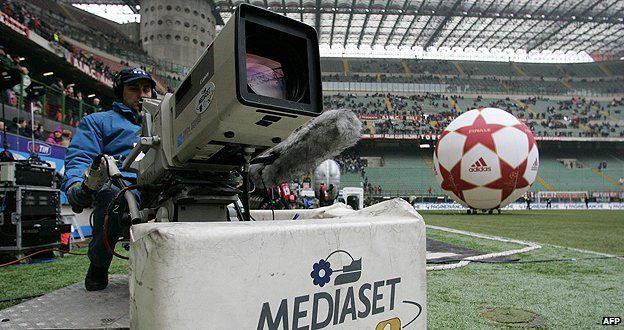 Italy's heady blend of politics and media has sometimes led to concerns about the concentration of media ownership in the hands of former prime minister Silvio Berlusconi.
Mr Berlusconi's Mediaset owns Italy's top private TV stations, and the public broadcaster, Rai, has traditionally been subject to political influence, so that when Mr Berlusconi was prime minister, he was able to exert tight control over both public and private broadcasting.
Between them, Rai and Mediaset dominate the TV market and are a potentially powerful political tool, especially as 80% of the population is said to rely on TV for daily news. Sky Italia has a near monopoly of the pay-TV sector.
The Italian press is highly regionalised, reflecting Italy's strongly regional history and character. Milan in particular is home to many newspapers and magazines. Most newspapers are privately-owned, often linked to a political party or run by a large media group. Newspaper readership figures are low compared to other European countries.
Around 2,500 commercial radio stations broadcast in Italy. Some have national coverage and most are music-based. They share the airwaves with public broadcaster Rai's networks.
The media environment is generally free and press freedom is protected by the constitution. But Reporters Without Borders has cited threats against reporters, especially in parts of the south where mafia gangs are strong, and self-censorship because of political pressure.
There were 54.8 million internet users by December 2017 (Internetworldstats.com). Facebook is by far the most popular social media platform.