Belarus profile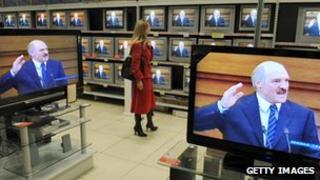 Belarus has been heavily criticised by rights bodies for suppressing free speech, muzzling the press and denying the opposition access to state media.
Reporters Without Borders (RSF) ranked Belarus 151st out of 175 countries in its 2009 press freedom index.
A 2008 media law raised concerns. The US-based Committee to Protect Journalists (CPJ) said it was "severely restrictive", citing curbs on foreign funding for media, accreditation rules for journalists, and efforts to censor the web.
TV is the main source of news. The four national channels are state-controlled; their main competitors are Russian networks.
Official newspapers are subsidised, while opposition print media have faced increased charges and have been forced to change name, close down, or publish abroad.
Some private publications survive. They include business daily BDG Delovaya Gazeta and the embattled opposition paper Narodnaya Volya.
Foreign media outlets target Belarus. They include the Polish-funded, Belarussian-language satellite TV station Belsat.
The web is used by the opposition to make its voice heard. There were around 4.4 million internet users by June 2010 (InternetWorldStats).
RSF says a "burgeoning internet has only recently come to the attention of the censoring authorities". Under a 2010 presidential edict, ISPs must identify the devices used by web users and keep records of services rendered.
The press
Television
Radio
News agencies/internet