Swiss bus crash: Belgium buries more crash victims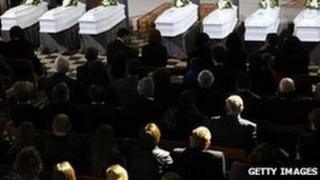 Mourners have turned up in their thousands for a second day to bury another seven of the 22 children killed in a bus accident last week.
The funeral service was held at a church in the Belgian town of Leuven, attended by Belgian and Dutch royals.
The children were on their way home, after a ski holiday in the Swiss Alps, when their bus crashed in a tunnel.
A similar service was held in the village of Lommel on Wednesday for 15 children and two adults.
Floral tributes lined the stairs of St Peter's church in Leuven, as soldiers carried the seven white coffins to the church altar.
Children who survived the crash placed white candles on the coffins of their former school mates, from the village of Heverlee.
Families were joined by the king and queen of Belgium, the Dutch crown prince, and by other international dignitaries. Six of the 22 children killed were of Dutch nationality.
Meanwhile, thousands of people watched the service on large television screens outside the church and in the town square.
Six adults were also killed and 24 children were injured after the bus they were travelling in rammed into a Swiss tunnel wall, as they were on their way home from a week's holiday.