Norway plans revised health law ahead of Breivik trial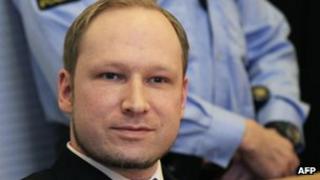 Norway is rushing through laws to ensure that Anders Behring Breivik is kept in a new, top security hospital if a court finds him criminally insane.
The law would allow patients to be locked up for as long as police found they were "in danger of being attacked by someone seeking revenge".
Patients would not be kept in the unit for more than six months at a time.
After that period, medical staff would need approval to extend the stay, or transfer the patient to another unit.
This mental health bill has been in the making since 2010.
But last year's 22 July attacks accelerated the process and resulted in an urgent review of the health care system with respect to violent and dangerous patients.
The legislation is designed to accommodate the care of Breivik in the event a verdict finds him criminally insane.
The bill says the law would apply in special circumstances whereby "a patient may have committed grave, atrocious and offensive acts, such as mass murder".
Norway's Health Minister Anne-Grete Stroem-Erichsen says the government has to act before Breivik comes to trial.
"It is my duty to ensure we have mental health care legislation in place to protect everyone's safety", she says.
The bill has been subject to a very brief consultation period of three weeks, which ended on 22 March.
Following a review by the government, the Norwegian parliament will now consider the bill.
'One-man hospital'
Deputy Health Minister Robin Martin Kass told the BBC that new legislation could be implemented by 1 July.
He says the government wants to build a new, high security treatment unit and that planning is already well on the way.
Mr Kass confirms that one scenario is that the new hospital unit is built within the grounds of Ila prison, where Breivik has been held since his arrest.
Breivik currently occupies three adjoining cells in a separate high security wing which he uses as a bedroom, a gym and a study.
Mr Kass says that the health authorities must be ready to receive Breivik if and when the court orders him to be transferred from prison to mental health care.
The bill does not propose changes to existing criminal and terrorism laws.
The Norwegian authorities wish to ensure that, whether Breivik is jailed or confined to a mental hospital, he is kept locked up for life.
However, rushing through such legislation will have consequences far beyond the case of Breivik.
Opponents of the bill have expressed concerns that Norway risks ending up with draconian laws that could compromise the human rights of mental health patients and transfer too much power to police.
The trial of Anders Behring Breivik is due to start on 16 April. The verdict is expected in early July.