Spain: Rajoy's party falls short in Andalucia win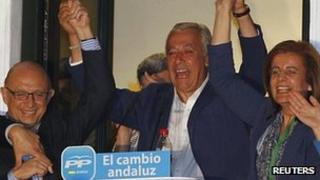 Spain's ruling Popular Party has won elections in the southern region of Andalucia but may not be able to force the Socialists from power.
Prime Minister Mariano Rajoy's party secured 50 seats in the 109-seat assembly, three more than the Socialists, in power for 30 years.
The Socialists could stay in power with the support of the United Left.
Mr Rajoy had hoped for outright victory ahead of a budget on Friday which is expected to herald deep spending cuts.
His centre-right Popular Party (PP) won national elections in November and after they had secured control of 11 of Spain's 17 autonomous regions in May 2011.
Opinion polls had indicated they were also on course to win Andalucia, Spain's most populous region with more than six million voters.
But Spain is facing its first general strike for more than a year on Thursday - a day before cuts expected to be announced in Mr Rajoy's 2012 budget. Initial spending cuts and tax increases were already announced in January.
The Popular Party's leader in Andalucia, Javier Arenas, praised the victory as an "historic achievement" although, as the daily El Pais pointed out, the PP's share of the vote was down 5% on the general election.
He had earlier promised major spending cuts in the region, but said he would leave education, health and social provision untouched.
Andalucia has Spain's highest jobless rate of 31% and has one of the country's highest regional debts.
A vote was also held on Sunday in the northern region of Asturias but while the Socialists picked up most seats, no party emerged as a clear winner.