Household Charge due for Northern Ireland homeowners in Republic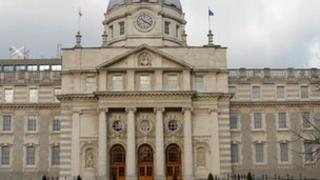 People from Northern Ireland who own homes in the Republic have just days left to pay the controversial Household Charge.
The Republic's Minister for Social Protection, Joan Burton, has urged all home-owners to pay the 100 euros (£85) tax by Saturday's deadline.
So far, around 20% of 1.6m households liable for the charge have paid it.
Hundreds of people, some from Northern Ireland, have protested against the new tax at rallies in County Donegal.
On Saturday, 3,000 people attended a rally in Dublin protesting against the charge.
The measure was first announced by the Irish government in July 2011.
It aims to raise 160m euros in revenue for the Republic.
Around 100 local authority offices around the country will open their doors next Saturday in order to facilitate those who want to pay the levy.