Fianna Fail confirm Bertie Ahern's resignation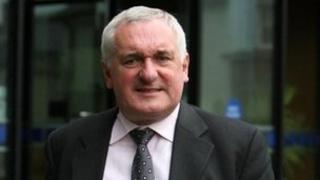 Fianna Fail have said that they have received correspondence from former Taoiseach Bertie Ahern confirming his resignation from the Party.
Mr Ahern announced he was leaving the party on Saturday.
That followed the Mahon report, which found that he failed to truthfully account for some financial transactions.
Fianna Fail has also received a letter of resignation from former minister and EU Commissioner Padraig Flynn.
The party's leader, Micheal Martin, had been due to propose a motion to expel both from the party at Friday's national executive meeting following the findings of the Mahon Tribunal.
In a statement on Monday, the party confirmed that they would go ahead with a special meeting on Friday.
That meeting will discuss other expulsions from the party.
The party said that a Fianna Fail councillor, John Hannon, had also resigned his membership.
The party will also undertake a review of the organisation in Mr Ahern's former constituency of Dublin Central.
In a weekend statement, Mr Ahern insisted that he told the truth to the Mahon Tribunal and that he would examine ways of vindicating his name.
The Mahon Tribunal report found that Mr Ahern gave untrue evidence about the source of over 215,000 Irish punts lodged in bank accounts connected to him.
The report also made findings of corruption against Padraig Flynn, developer Owen O'Callaghan, the late Fianna Fail TD Liam Lawlor and 11 councillors from a number of parties.