Cannibal suspect Alexander Bychkov held in Russia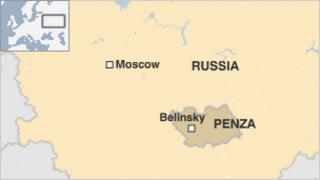 Russian police have arrested a suspected serial killer who they believe ate parts of his victims.
Alexander Bychkov, 24, from the town of Belinsky is suspected of killing at least six people whose remains were found buried near his home.
An investigator told Izvestia newspaper that he had used a knife to kill his victims and then ate their livers.
Another man, Alexander Zhuplov, was convicted of carrying out some of the killings last year.
It is not yet clear what will happen to him.
The authorities said Mr Bychkov gave details of the crimes while being questioned about a theft from a shop.
"The suspect identified the photos of those who died," one official told the paper.
Police have now begun looking into unexplained disappearances between 2009 and 2011 in Belinsky, a small town of around 8,000 people in the Penza region 550km (341 miles) south-east of Moscow.