Hungary canoeist Gabor Rakonczay completes Atlantic trek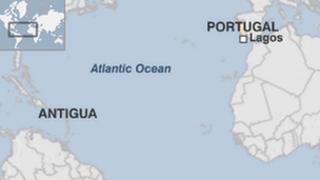 Hungarian canoeist Gabor Rakonczay, who went missing six weeks after leaving Portugal on a solo attempt to cross the Atlantic, has arrived safely in Antigua, his wife says.
His communications equipment malfunctioned after his canoe capsized twice in succession in heavy seas.
The last entry on the 30-year-old architect's website was on 6 February.
His wife, Viktoria, broke the news that he had arrived in Antigua, nearly three weeks ahead of schedule.
She said she remained convinced that her husband was safe and well during the time he was out of contact.
She is now on her way to the Caribbean to meet him, and they are expected to return to Hungary at the end of the week.
He set out from Lagos in Portugal on 21 December, and his last stop was in the Canary Islands.
He got into difficulty shortly afterwards, and was unable to contact anyone for the remainder of his journey.
The couple rowed across the Atlantic together four years ago.
The canoe, called Knight, or Vitez in Hungarian, is 7m long (23ft) and was specially designed for the journey.