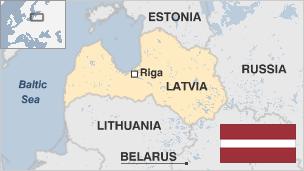 Situated in north-eastern Europe with a coastline along the Baltic Sea, Latvia has borders with Estonia, Russia, Belarus and Lithuania. It has linguistic links with Lithuania to the south, and historical and religious ties with Estonia to the north.
Not much more than a decade after it regained independence during the demise of the Soviet Union, Latvia joined the European Union and Nato in 2004.
For centuries Latvia was primarily an agricultural country, with seafaring, fishing and forestry as other important economic factors.
Like its Baltic neighbours, Latvia has made a rapid transition to the free market since the early 1990s. It adopted the euro as its currency in 2014.
Some 24% of the population is primarily Russian-speaking, and Russian propaganda efforts in this community are a cause of concern for the Latvian authorities. Since Russia's invasion of Ukraine in 2022, Lativa has banned all Russian broadcast channels.
REPUBLIC OF LATVIA: FACTS
Capital: Riga
Area: 64,589 sq km
Population: 1.8 million
Languages: Latvian, plus Livonian, Latgalian
Life expectancy: 70 years (men) 80 years (women)
Egil Levits became president in July 2019, after securing most votes from parliament in the May 2019 presidential election.
Levits has supported moves to reduce the use of Russian language in Latvia, including banning universities from teaching in languages other than the official languages of the EU. He has reaffirmed that Russian nationals must pass a Latvian literacy test to receive citizenship
Although generally a ceremonial post, Latvia's president can veto legislation, call referendums, and has some leeway in nominating the prime minister for parliamentary approval.
Prime minister: Arturs Krisjanis Karins
Arturs Krisjanis Karins became prime minister in January 2019 at the head of a coalition of five conservative and liberal parties, excluding the pro-Russia Harmony party that had emerged as the largest bloc in parliament after the October 2018 elections.
Mr Karins was born in the US state of Delaware to Latvian emigre parents, and earned a doctorate in linguistics before emigrating to Latvia and going into business.
He was elected to parliament in 2002 as an MP for the centre-right New Era Party, and went on to serve as economy minister before becoming a member of the European Parliament.
He was the conservative Unity party's candidate for premiership at the 2018 election.
The media operate freely, with few legal restrictions. A law provides prison terms for libel and incitement of racial hatred.
Newspapers - all of them privately-owned - reflect a variety of political views. Many titles have suffered declining circulations.
Some key events in the history of Latvia:
1800s - Latvia is under Russian rule.
1917-20 - Latvian war of independence. After the Russian Revolution, Latvia fights to establish its independence against the Soviet Russian and German armies.
1920 - Soviet Russia recognises Latvian independence.
1940 - Soviet Union annexes Latvia, along with neighbouring Estonia and Latvia. Mass deportations to Siberia and Central Asia follow.
1941 - Nazi Germany invades. Some 70,000 Latvian Jews are killed by Nazi death squads and Latvian paramilitary units.
1944 - Soviet Army returns, heralding further waves of deportations and repression of resistance to Soviet rule.
1991 - Independence restored.
2004 - Latvia joins European Union and Nato.
2014 - Latvia joins the eurozone.
Related Internet Links
The BBC is not responsible for the content of external sites.