Sarkozy urges media not to show Merah shootings video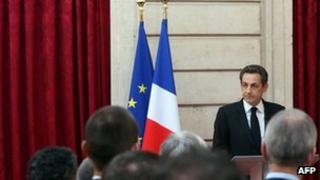 French President Nicolas Sarkozy has urged TV stations not to air video of the attacks by gunman Mohamed Merah as al-Jazeera discusses showing footage.
Senior officials at the satellite TV channel are meeting in Qatar to consider the recording, received by the channel's bureau in Paris.
Merah filmed himself shooting dead Jewish children and unarmed soldiers.
French police are seeking a third person over the theft of a scooter he used, a police source told AFP.
Merah's brother Abdelkader has already been charged with helping him steal the powerful Yamaha scooter.
Mohamed Merah was killed in a police siege at his flat in Toulouse on Thursday after the gun attacks, in Toulouse and Montauban, which left seven people dead and two wounded.
His Algeria-based father has been sharply criticised for saying he wants to sue France over his son's death.
'For the victims'
"I ask of those in charge of all the TV channels in possession of these images not to broadcast the images under any pretext out of respect for the victims and out of respect for the republic," Mr Sarkozy said.
He was speaking to magistrates and policemen who took part in the Merah case, at the Elysee presidential palace in Paris.
Al-Jazeera's Paris bureau confirmed for the BBC News website that talks were under way in Qatar.
Earlier, the bureau's chief, Zied Tarrouche confirmed he had watched the video and it showed all of the killings.
"You hear the voice of the person who carried out the killings," he told French channel BFM TV.
"You also hear the victims' cries. My feelings are those of any human being who sees horrible things. For me the issue is whether to broadcast this or not."
Mr Tarrouche was quoted as saying by French TV channel TF1: "We are not a sensational network, we do not want to distribute images without measuring the risks and the consequences."
Investigators believe an accomplice of Merah posted the footage of the killings to al-Jazeera, a police source told AFP.
The USB memory stick containing the footage, sent along with a note claiming the attacks in the name al-Qaeda, was posted on Wednesday, when Merah was already under siege.
It was posted from "outside Toulouse", the police source said.
In another development, the head of the French domestic intelligence service (DCRI), Bernard Squarcini, quashed speculation that Merah, a petty criminal, had worked as a police informer.
The gunman's father, Mohamed Benalel Merah, has said he wants to bury his son, who reportedly had joint French and Algerian citizenship, in Algeria, where he now lives.
His accusation that the French authorities deliberately chose to kill his son rather than capture him has caused indignation in Paris.
"If I were the father of such a monster, I would shut my mouth in shame," said French Foreign Minister Alain Juppe.
'I can't see that'
Relatives of the victims have also called for the video not to be broadcast.
The mother of Imed Ibn Ziaten, the first of three paratroopers killed by Merah spoke to AFP by phone from Morocco, where she was about to visit her son's grave.
"My son was killed, a 30-year-old child and people want to show it as if it were a film," - Latifa Ibn Ziaten said, weeping.
"Please, I can't see that."
The family of Jonathan Sandler, the Jewish teacher killed with his two sons in Toulouse, said it would take legal action to prevent their broadcast.
"The family calls on all media not to broadcast the video and to respect their pain and their mourning," family lawyer Patrick Klugman told AFP.
"We will use all judicial means possible to prevent any broadcast."
The uncle of Bryan Bijaoui, 15, who was seriously wounded in the school attack, said he was shocked and revolted by the possibility of footage of the shootings being broadcast.
"The only reason would be to shock people and hurt them," Aaron Bijaoui said.
"If ever they're broadcast, [Merah] will have won all the way."