EU offices around the world 'left empty for months'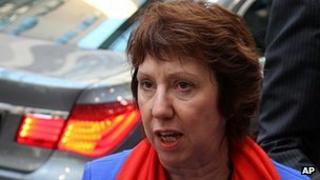 EU diplomats around the world are facing calls to have their annual leave cut amid a claim that offices are left "empty for many months of the year".
MEP Ingeborg Graessle saysin a working documentthat some officials can take 17-18 weeks off including overtime.
The EU's External Action Service (EEAS) says it is trying to change a system inherited before its creation in 2010.
But EU officials have described as "ridiculous" the idea that offices abroad are being left untended.
One source said that most of the people sent to work in EU delegations and embassies around the world were "thoroughly committed to their job".
Dr Graessle complains that MEPs have been calling for some time for a change to staff regulations that provide perks dating back to the 1960s.
She says "substantial periods of absence from work are the norm" with staff able to earn two days' extra leave per month through overtime.
"Plenty of people tell me that staff are not available because they have too many days off," Dr Graessle told the BBC. "How will you be able to build up a real service if your staff are not available?"
As well as nine "office closing days", officials in many countries such as South Sudan, Iraq, Sri Lanka and Afghanistan are allowed special leave, she says, far more than diplomats working for national governments such as Germany.
The EEAS is headed by EU foreign policy chief Catherine Ashton, whose spokesman Michael Mann told BBC News website: "I think no-one will argue that if you are in a place which is clearly dangerous such as Afghanistan you deserve a few extra days off."
"It is wrong to count overtime compensation as annual 'holidays'," he added.
Dr Graessle, who is the Parliament's rapporteur on financial regulation, says the leave issue involves all postings: in Washington, an EU official's basic annual leave is 53-59 days, depending on an employee's age, compared with 33 for a diplomat working for the German government.
The European Parliament is currently considering a Commission proposal to cut staffing levels and halve the time allowed for travelling home from overseas postings to up to three days.
Several meetings had been held with the European Commission to consider the issue of annual leave and public holidays and Baroness Ashton's team would work with the Parliament in Brussels on revising the rules, Mr Mann said.
Heads of delegations abroad had themselves been "prime movers in highlighting the problems in the system and pressing for change".
But Dr Graessle argues that the plan falls "far short" of Parliament's call for a major overhaul off a system which she considers too expensive and unfair for taxpayers.
"We have member states' ambassadors sitting in economy class while EEAS officials sit in business class."