Lithuania profile - Leaders
President: Dalia Grybauskaite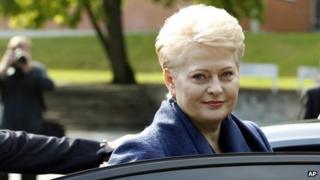 Dalia Grybauskaite was voted in as Lithuania's first woman president with an emphatic election victory in May 2009.
She was re-elected in May 2014, in a presidential runoff held amid widespread apprehension over a resurgent Russia.
Many Lithuanians who remember living under Soviet rule apparently saw the karate black belt as their best choice to steer the country through Europe's worst standoff with Moscow since the Cold War.
Her anti-Russian platform struck a chord with voters at a time that fears were growing that Russia would try to destabilise the Baltic states of Lithuania, Latvia and Estonia - all members of NATO and the European Union - which have small armed forces and Russian speaking minorities.
US troops were sent to each of the Baltic states and Poland in 2014 to reassure them that NATO was taking its security commitments seriously, a few months after Russia annexed the Ukrainian region of Crimea.
Intervention
Ms Grybauskaite is sometimes dubbed the "Iron Lady", the nickname of former British prime minister Margaret Thatcher, a steely free-marketeer she describes as one of her political models.
She took an unprecedentedly interventionist approach after the 2012 parliamentary election, when she initially said that she could not accept a coalition that included the Labour Party, after the party had been accused of electoral irregularities.
Born in 1956 in Vilnius - then still part of the Soviet Union - Ms Grybauskaite studied in the Russian city of Leningrad - today's St Petersburg.
A senior civil servant since Lithuania's independence in 1990, she served as finance minister from 2001 to 2004, when the country nominated her the European Commission after joining the EU that year.
The president holds considerable power, appointing government ministers, judges and the central bank chief as well as Lithuania's member of the European Commission.
Prime Minister: Algirdas Butkevicius
Algirdas Butkevicius became prime minister in December 2012, nearly seven weeks after his Social Democratic Party emerged as the biggest party in parliamentary elections.
Talks to form a Social Democrat-led coalition were interrupted when President Dalia Grybauskaite said she would would not accept a government that included the Labour Party, which was under investigation over electoral and tax fraud allegations. She later withdrew her objections.
Mr Butkevicius's new government pledged to ease the austerity measures introduced by the previous conservative coalition led by Andrius Kubilius, and one of its first acts after taking office was to raise the minimum wage from 850 litas ($330) to 1,000 litas ($386).
The prime minister has pledged to quit of Lithuania fails to meet the economic targets required for it to be able to join the euro by 2015.
Born in 1958, Algirdas Butkevicius first trained as an engineer and later gained a doctorate in economics.
He joined the Social Democratic Party in 1992 and became an MP for the first time in 1996. He held various ministerial posts during the 2004-2008 Social Democratic minority government, and became the leader of the party in 2009.