Italy eurozone: Strikes loom over labour law reform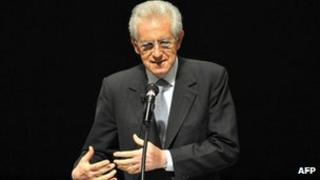 One of Italy's biggest engineering unions is to strike in protest at labour law reform, following the example of the main union federation.
The UILM, the engineering workers section of the UIL union federation, said it would hold a four-hour national strike over the planned changes.
The biggest union federation, the CGIL, already plans 16 hours of stoppages including a day-long general strike.
Prime Minister Mario Monti says the reform will make Italy competitive.
No dates have yet been set for the strike action.
Mr Monti's government is proposing to weaken protection provided to millions of people under Article 18 of the employment code, which requires firms with more than 15 employees to reinstate workers considered by a court to have been dismissed unlawfully.
The reform also gives financial incentives to hire permanent workers rather than temporary staff.
'Ridiculous'
Mr Monti, who replaced media magnate Silvio Berlusconi in November as prime minister, said on a tour of East Asia that he hoped the reform would be passed.
"Of course my view is that it is a bold and balanced package," he said in the Japanese capital, Tokyo.
The reform is opposed by both the unions and the centre-left Democratic Party, which supports Mr Monti's government in parliament.
CGIL leader Susanna Camusso told reporters that the unions were insisting on the right to reinstatement.
"If the parliament will come up with a solution that provides the right to reinstatement in all cases of laid-off workers, then we will have saved the spirit of Article 18 and that was our goal," she said.
She accused the Monti government of not wanting to find a solution together with the unions.
"We have said in the past and continue to say that the labour reform does not create even half of a job," she added.
"This does not mean that it is not necessary because the labour market has various structures and rules which need to readjusted but we had to laugh when we were told... that the reform would reduce unemployment to 5%, which is just ridiculous," the union leader said.