Bulgaria abandons Belene nuclear plant proposal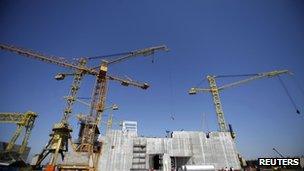 Bulgaria has abandoned plans to build a new nuclear power station at Belene, close to the Romanian border.
The country's deputy finance minister says the cabinet wants to build a gas-powered plant on the site instead.
A Russian-built reactor, which had been ordered for the facility, could now be installed at an existing nuclear plant at Kozloduy.
Environmentalists had opposed the plant, which had first been proposed when Bulgaria was under communist rule.
Bulgaria and Russia have been locked in a long-running dispute over rising costs, and the project's future was thrown into doubt when the German company RWE pulled out in 2009.
Originally two reactors were to have been built for the site by Russian company Atomstroyexport, and one of them has already been completed.
Bulgaria's Economy and Energy Minister Delyan Dobrev will travel to Moscow on Thursday in an attempt to persuade the Russian company not to take legal action.
The Bulgarian prime minister Boyko Borisov discussed the scheme with the Russian President-elect Vladimir Putin on Monday.