Russia policemen arrested over Siberia death in custody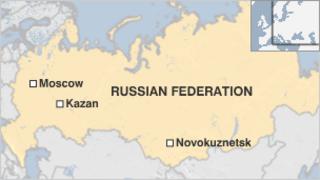 Four police officers have been arrested in Siberia over the death of a man in custody, in the latest in a line of cases causing outrage in Russia.
They are suspected of causing a witness's death in Novokuznetsk, after accusing him of involvement in a crime and subjecting him to torture.
They allegedly put a gas mask on him and beat him up, prosecutors say.
Victims and rights activists accuse Russian police of routinely using torture to extract false confessions.
Correspondents say the authorities still require Russian police to deal with a set number of crimes, encouraging officers to try to extract confessions by force.
In a separate case, Kazan prosecutors filed two new brutality charges against policeman Almaz Vasilov and several unnamed colleagues.
Mr Vasilov was already charged with torturing a suspect to death by sexually assaulting him with a bottle earlier this month.
The man, Sergei Nazarov, 52, died in hospital of his injuries two days later, after telling investigators about his ordeal.
The incident provoked street protests in Kazan that drew nationwide attention. An investigation was launched, and five policemen were later arrested and their station disbanded.
According to the latest charges, Mr Vasilov and his fellow officers tried to force a 20-year student into confessing to a theft by beating him and sexually assaulting him with a pencil.
'How much more?'
In the Novokuznetsk case, Russia's Investigations Committee said that a 31-year-old resident brought into the police station as a witness last September was later found dead of asphyxiation.
The man suffocated after police put a gas mask on him and beat him up, it said.
Interior Minister Rashid Nurgaliyev has condemned the incidents, saying every rights violation by the police is an "emergency".
However, he added that it would take time to weed out "unscrupulous" officers from the service.
He has also suggested creating a course aimed at teaching policemen to "love people".
The recent cases have provoked widespread outrage.
Prominent blogger Alexei Navalnyy has called for Mr Nurgaliyev to be sacked and all policemen in Kazan replaced with carefully chosen new recruits to set an example.
"They need to throw Nurgaliyev out. How much more can we take?" he wrote on his blog.