Hungary's Pal Schmitt resists quit calls over thesis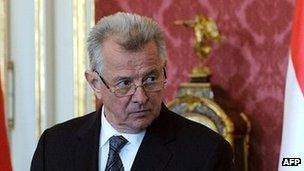 The president of Hungary has resisted pressure to resign after being stripped of his doctorate for plagiarism.
Speaking on state TV, Pal Schmitt said he did not see any connection between the academic title and his role as head of state.
He said he had written the thesis to his "best knowledge and intentions" as a student 20 years ago.
Budapest's Semmelweis University withdrew the award after finding that large parts of his thesis were copied.
Mr Schmitt, whose role is largely ceremonial, denies the accusations, but has faced mounting calls from opposition parties and the media to quit.
In Friday's interview, Mr Schmitt said that his "conscience is clear" and that he did not believe there was any reason for him to quit.
"I wrote my thesis to the best of my abilities. It was an honest piece of work," the 69-year-old said.
"I have never gained any financial or moral advantage from it."
He added he would be prepared to write a new thesis to defend his reputation.
"I will prove that I still have the perseverance, just as when I was Olympic champion, and even at the age of 70 I will prove that I am able to write a so-called PhD thesis that meets today's very tough standards".
Earlier, Prime Minister Viktor Orban, who backed Mr Schmitt's appointment in 2010, said it was up to the president to decide what to do.
"Nobody except him can decide," Mr Orban, who is seen as a close ally of Mr Schmitt, said in his regular Friday morning radio interview.
The university launched the investigation into the award after reports surfaced in a newspaper in January. On Thursday, the title was revoked, with the rector condemning a "violation of scientific norms".
A former Olympic fencing champion, Mr Schmitt wrote his thesis in 1992 on the Olympic Games, as part of a degree from the University of Physical Education, later absorbed by Semmelweis University.
A committee on Tuesday said more than 200 pages of the 215-page document either showed "partial similarity" to other works or were direct translations.
But it also blamed the university for failing to notice the copying or alerting Mr Schmitt to it.