Hungary President Schmitt quits in plagiarism scandal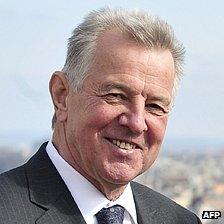 Hungary's President Pal Schmitt says he is resigning, after being stripped of his doctorate over plagiarism.
Mr Schmitt, elected in 2010, said "my personal issue divides my beloved nation rather than unites it".
"It is my duty to end my service and resign my mandate as president," he told parliament.
Last week, Budapest's Semmelweis University revoked his 1992 award after finding that much of his thesis had been copied.
Mr Schmitt, 69, won gold medals for fencing at the 1968 and 1972 Olympic Games.
He was elected to the largely ceremonial role of president for a five-year term, with strong backing from the conservative ruling Fidesz party of Prime Minister Viktor Orban.
The university said whole passages of his thesis about the modern Olympic Games had been copied from the work of two other academics.
He denied wrongdoing and resisted calls for him to go, but on Saturday protesters in Budapest stepped up the pressure for him to resign.
The scandal comes at a sensitive time for the Fidesz government, whose new laws on the judiciary, media and central bank have proven highly controversial.
The European Commission and Euro MPs accuse Mr Orban of limiting media freedom and the independence of the judiciary and central bank. The row has delayed financial help that Hungary desperately needs to ease its debt crisis.
Mr Schmitt served as Hungary's ambassador to Spain in 1993-1997, and to Switzerland in 1999-2002.
He was Hungary's fourth democratically-elected president since the collapse of communism in 1989.
He told parliament he would appeal against the decision which revoked his doctorate. He argues that only a court has the power to take such a decision.
The BBC's Nick Thorpe in Budapest says Fidesz support for Mr Schmitt wavered from the very start of the plagiarism allegations.
A single comment from Mr Orban's spokesman, Peter Szijjarto, that the allegations were "ridiculous", was not followed up by the party as a whole.
When a committee of the Budapest Semmelweis University issued its 1,157-page report last week, Fidesz simply declared the matter "closed", while the Christian Democrats (KDNP), their junior partner in government, issued a much more strident attack on the president's critics, our correspondent says.
Prime Minister Orban would only say last Friday that the president should make up his own mind.
Normally pro-government newspapers have bristled with articles calling for Mr Schmitt's resignation, though the same authors also pointed to the failure of former leftist leaders - notably ex-Prime Minister Ferenc Gyurcsany - to resign, after admitting to lying in 2006.
On Sunday, the university rector, Tivadar Tulassay, stepped down, on the grounds that he had not received support from the relevant ministry. The university's report was returned unopened by the minister.
The AFP news agency says revelations about Mr Schmitt's thesis first emerged on the Hungarian news website hvg.hu in January. More revelations were reported soon after by the index.hu news website.
A year earlier, Mr Schmitt had told the BBC that "asking questions is an essential part of being a journalist".
"However, I also see that seeking the truth is also an essential part of the work of a journalist, so if anyone goes in that direction, he will always be supported by me. That is something where you can really rely on me."
In March 2011, the German Defence Minister, Karl-Theodor zu Guttenberg, resigned after he was found to have copied large parts of his 2006 university doctorate thesis.
That plagiarism scandal put various politicians' academic works under fresh scrutiny.